blog
|
Kollmorgen Does Not Make Robots - We Move Yours
|
2
minute read
Trending in the automation world these days is the merging of the collaborative robot and the AGV, creating a mobile Cobot with the navigational capabilities of today's AGV's.  This opens new opportunities in warehouse logistics that improves the entire supply chain.  With additional power demands created by this combination, innovative motor and drive solutions become paramount.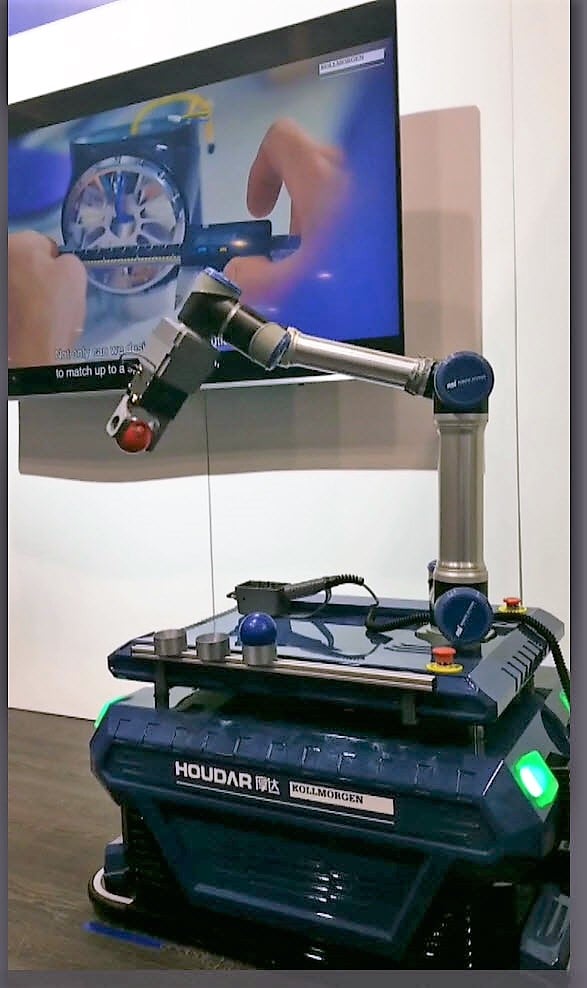 Kollmorgen demonstrated this concept at PACKEXPO 2018 with the "MARS" Robot. MARS stands for Mobile and Robotic Arm Solution and shows how the world of mobile robots/AGVs and Collaborative Robots are starting to come together. AGV's have a strong presence in smart warehousing applications and is starting to move out of the main aisle and into picking aisles, manufacturing cells and even in office spaces and out in the fields. Kollmorgen applied its core expertise in frameless motors, drives, and navigational controls to show just how we can help manufacturers build better robots and AGV's.  
For mobile platforms and AGVs:  Kollmorgen (NDC) has the most versatile AGV controls platform available with the largest network of AGV partners globally.  The Kollmorgen platform offers 6 navigation options with a single controller - this means flexibility in how your AGV navigates.
For robots and cobots: Kollmorgen has an established track record for enabling robotic innovation with 100 years of experience, tens of thousands of motor designs and mobilizing hundreds of thousands of robot joints and robotic arms.  Our frameless technology is versatile and optimized for performance, enabling smaller, lighter and faster robots.  Our TBM and KBM platforms provide the foundational building blocks and can be optimized for the perfect performance and mechanical fit.
The Kollmorgen MARS robot demonstrates these two worlds coming together which includes an interactive demo of a robotic arm enabled by Kollmorgen Automated Guided Vehicle (AGV) software, hardware, and integrated frameless motion technology.
Kollmorgen does not make robots but our technology moves them.
For more application and product information, see Kollmorgen/Robotics or NDC Solutions.