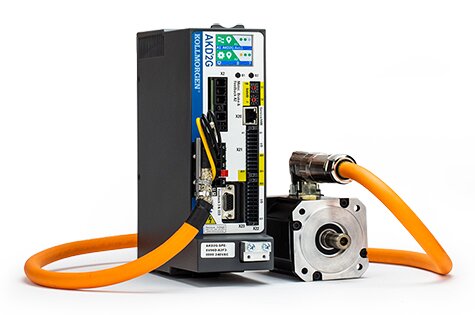 <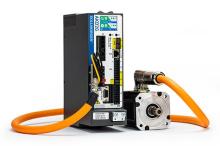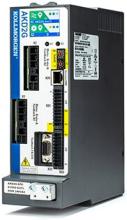 >
AKD2G Servo Drive
AKD2G features include dual-axis, expandable I/O (without increasing the size), removable memory, dual-channel STO, and the first drive-resident graphic display in the industry. The AKD2G is optimized for single-connector AKM2G and AKM (with or without brake) reducing wiring with single hybrid cable technology. AKD2G also offers an option for secondary feedback to support legacy feedbacks.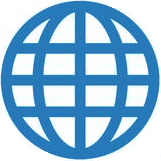 Product available worldwide
Save Your Panel Space
Dual -axis drives mean twice the power density over single axis drives and 20% less space than competitors' dual axis technology.
See Specs
Full-Color Display
Accessing your commissioning data has never been so easy.
Explore
On a Mission to Commission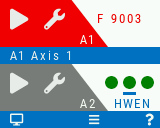 Detect faults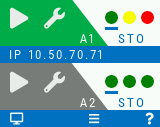 Color-coded enable/disable states for each axis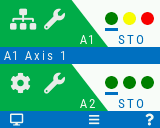 Icons indicate operation and command source modes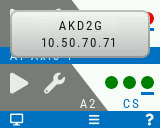 Locate your drive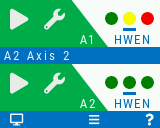 Rotating state information on STO, HW enable, and Controlled Stop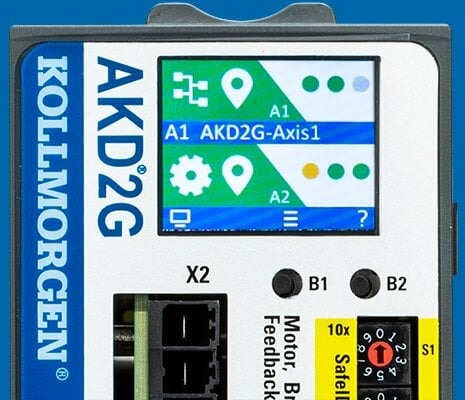 Features
Flexible
Modular design allows the user to specify only the features needed
Optional Feedback Port for

EnDAT 2.2
BiSS
Resolver
A-QUAD-B Encoder
Encoder emulation
Dual-loop

Multiple bus choices for system optimization, including EtherCAT® & FSoE, CANopen®, PROFINET® IRT and Ethernet/IP™
Over-voltage, current, and temperature detection provided for added dependability
Dual-channel STO for each axis
Industry-leading power density for greater flexibility in mounting

Fits into a 10" deep control panel

Removable Memory
I/O

16 I/O included
Optional I/O expansion to 28 I/O

+2 Safe Inputs (2 Safe Inputs standard)
+4 Safe Outputs
Easy to Use
Plug-and-play compatibility with Kollmorgen controls and motors
WorkBench GUI, acclaimed for customer experience and usability
Hybrid Motor-Power connector is optimized for single-cable motors:
No adaptors, no D-subs, no splitters
Cage-clamp spring terminal connectors on I/O allow for fast and easy installation
Optically-isolated I/O reduces noise, and eliminates need for additional hardware
Fast
Servo on a Chip™ includes Dual-Core ARM™A9, 800 MHz + 1.5M additional FPGA gates
Accommodates changing load conditions immediately:

Current loop: 1.28us
Velocity loop: 62.5us
Position loop: 250us

Wizard-based tuning uses advanced Bode Plot tool to help you efficiently manual-tune when desired
Fast data acquisition with TCP/IP Ethernet service channel
Specifications
120/240 Vac
Model
Continuous Current
(Arms)
Peak Current
(Arms)
Typical Shaft Power
(kW)
Internal Regen
W (Ω)
Height
mm (in)
Width
mm (in)
Depth
mm (in)
Depth w/ cable bend radius
mm (in)
AKD2G-6V03S
3
9
1
100 (15)
233 (9.15)
75 (2.95)
180 (7.09)
225 (8.86)
AKD2G-6V06S
6
18
2
AKD2G-6V12S
12
30
4
AKD2G-6V03D
3 & 3
9 & 9
1 & 1
AKD2G-6V06D
6 & 6
18 & 18
2 & 2 
240/480 Vac
Model
Continuous Current
(Arms)
Peak Current
(Arms)
Typical Shaft Power
(kW)
Internal Regen
W (Ω)
Height
mm (in)
Width
mm (in)
Depth
mm (in)
Depth w/ cable bend radius
mm (in)
AKD2G-7V03S
3
9
2
100 (33)
270 (10.6)
75 (2.95)
180 (7.09)
225 (8.86)
AKD2G-7V06S
6
18
4
AKD2G-7V12S
12
30
8
AKD2G-7V03D
3 & 3
9 & 9
2 & 2
AKD2G-7V06D
6 & 6
18 & 18
4 & 4 
Support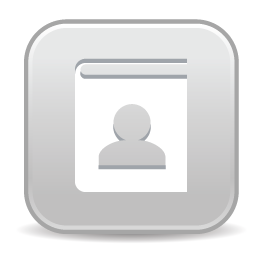 Follow the links here to find contact information for Global and North American support and sales information.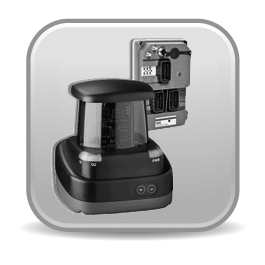 From the AGV Partner Portal you will be able to access our NDC Services, such as Technical Support, Customer Service and Training. This is also where you download our latest NDC software.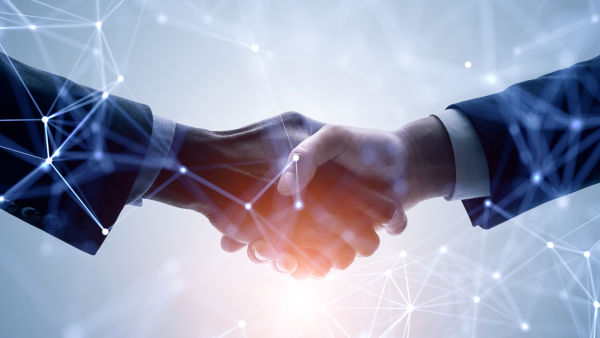 This secure site provides access to confidential material for the private use of approved partners only.
Kollmorgen introduces the next generation of motion for more ambitious machines built on more capable performance and more confident engineering. The Kollmorgen 2G Motion System harnesses the full performance potential of our leading AKM2G servo motors and perfectly matched AKD2G drives designed to deliver unrivaled power density and control. The result is significantly enhanced torque, responsiveness and SafeMotion capabilities in a compact footprint that enables easy installation and total flexibility.
Learn More
Learn how to engineer exceptional machines, robots and vehicles with the highest-performing, most reliable motors, drives, automation solutions and more.
Learn More