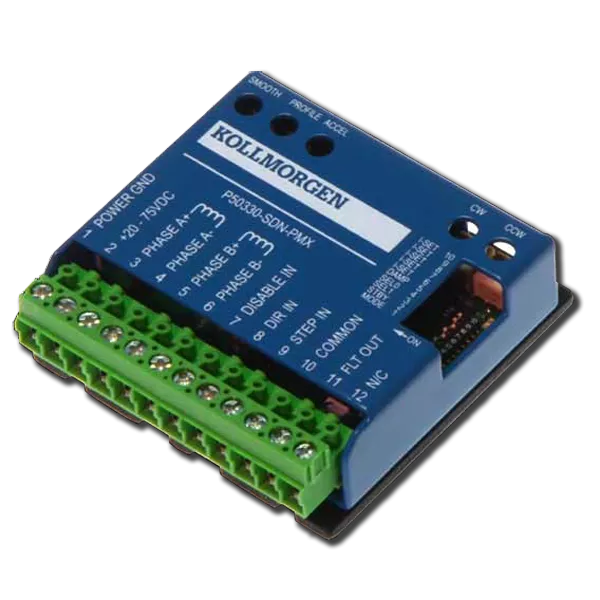 <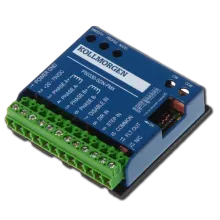 >
P5000 Stepper Drive
The P5000 is a compact micro-stepping stepper drive optimized for high system performance with Kollmorgen's industry leading POWERMAX II stepper motors. It is an impressive yet simple addition to the Kollmorgen stepper drive family. Pairing a stepper system doesn't get any easier! The P5000 and Kollmorgen stepper motors are meant to be together. With easy access smoothing and profile potentiometers for optimized performance.

Limited availability outside North America
Features
Current output from 0.7-3.5 A peak; DIP switch selectable in 0.2 Amp increments
Bus Voltage 20-75 Vdc
Wave matching via potentiometers for Kollmorgen motors to provide optimal performance for the Kollmorgen Stepper Motor Families.
All Inputs and Outputs are Optically Isolated
Command Source from External Step and Direction Inputs or Internal Velocity Controlled Oscillator (VCO); DIP switch selectable
External Single-Ended Step and Direction Command

Disable Input
Fault or Enable Output

VCO Mode

VCO allows for velocity control via 2 seperate potentiometers for CW and CCW rotation and a third potentiometer for acceleration.
CCW Jog Input
Run/Stop Input
Run/Stop Output
CW Speed trimpot
CCW Speed trimpot
Accel/Decel trimpot

Pulse Multiplier smooths micro-stepping
Idle Current Reduction; DIP switch selectable
Compensation for mid-range instability
RoHS & CE certified
Learn how to engineer exceptional machines, robots and vehicles with the highest-performing, most reliable motors, drives, automation solutions and more.
Learn More