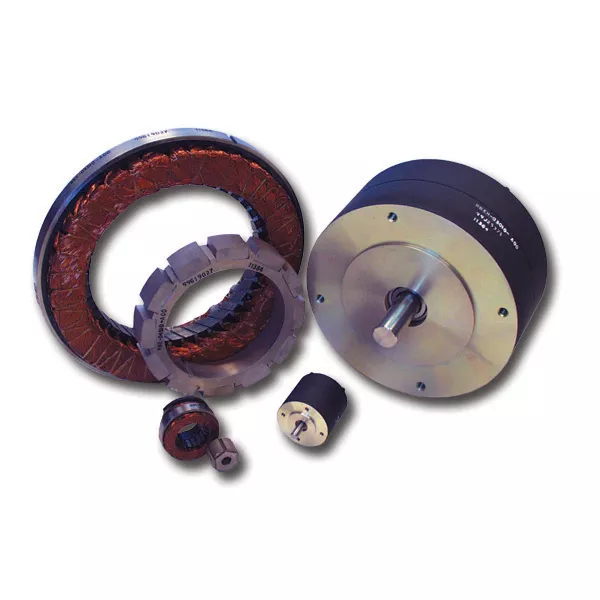 <
>
RBE Series Frameless Motors
The RBE Series is a proven direct-drive platform, with many years of application success in defense, semiconductor, machine tools, industrial automation, medical, robotics and other industries. The frameless configuration is supplied as a rotor and stator component that can be integrated directly into the machine, using the same bearings to support both the load and the motor. This design eliminates shaft, bearings, endbells, and couplings to reduce volume, weight and complexity.

Limited availability outside North America
Features
Features
10 frame sizes from 21.3mm to 239mm OD
Continuous torque range from .01 N-m to 38 N-m
Peak torque range from .03 N-m to 200 N-m
Speeds up to 35,000 rpm
Standard and custom windings to match speed/torque performance requirements
RBEH housed models come with stainless steel shafts and can include any combination of Hall sensors, encoder or resolver as rotor position feedback devices
RBE frameless models use the load's own shaft and bearings, and can include integral Hall sensors, and additional position feedback devices such as encoders or resolvers can be added as separate components
Benefits
Low cogging for smooth low-speed rotation
Brushless design allows significant reductions in rotor inertia and increases in acceleration
Improved cooling and efficiency provides increased performance in a wide variety of operating conditions
Frameless configuration reduces machine size and maintenance requirements since load and motor use same set of bearings
Learn how to engineer exceptional machines, robots and vehicles with the highest-performing, most reliable motors, drives, automation solutions and more.
Learn More