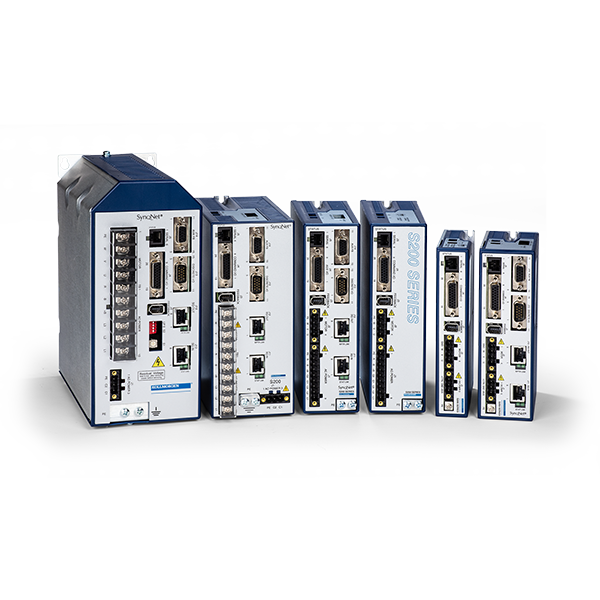 <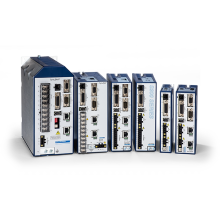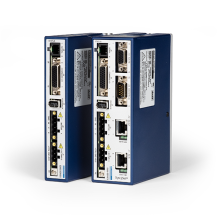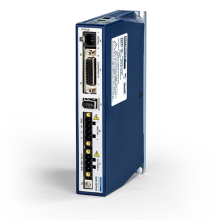 >
S200 Servo Drive
Kollmorgen S200 servo drives are the first all-digital industrial drives with a velocity loop bandwidth of 800 Hz. These compact drives offer simplified tuning and unmatched system throughput, with high-resolution feedback and high performance current loop bandwidth for smooth motion and rapid response. The intelligent feedback device with electronic motor nameplate allows plug-and-play commissioning in most applications.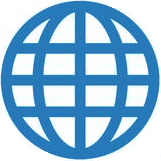 Product available worldwide
Features
Features
Available for 120/240 VAC and 20-90 VDC operation with current ratings from 1.5 Amps RMS continuous to 48 Amps RMS peak
24-bit high-resolution feedback
3-5 kHz high-performance current loop bandwidth
Intelligent feedback device with electronic motor nameplate eliminates the need for drive parameter set-up and servo loop tuning, allowing allows plug-and-play commissioning in most applications
Standard features include torque and velocity control base, electronic gearing, up to an 18-bit analog reference input and an encoder equivalent output
Options available to support either indexing or SynqNet™ based programmable motion control
Meets UL 508C, CE, EN50178, EN61800-C and Semi F47 Standards
Separate "Keep Alive" power input allows rapid recovery from emergency stop conditions
Benefits
Wide power range allows a single drive family to be deployed through-out your entire machine
Compact footprint allows use of smaller cabinets, or mounting close to the point of use
Optically isolated inputs/outputs, positive locking connectors and full fault protection for long machine life and immunity to accidental damage
High performance system designed for increased machine throughput
Easy-to-use graphical user interface reduces engineering and support time
Reduced overall cost
Specifications
Technical Data
 
Model
Rated data
DIM
20330
20630
20260
20360
Rated supply voltage
V
20 ... 90 VDC
0 ... 264 VAC
Control logic, supply voltage
V
10 ... 90 VDC
85 ... 265 VAC
Rated output current (RMS value, ± 3 %)
A
3
6
1.5
3
Peak output current (± 3 %)
A
9
18
4.5
9
Peak time
s
3
3
3
3
Current loop Bandwidth max.
kHz
5
5
3
3
Velocity loop Bandwidth max.
Hz
800
Update rate
MHz
1.25
Dimensions
|   | DC | DC & option | AC |
| --- | --- | --- | --- |
| Height | 152.4 mm | 152.4 mm | 175 mm |
| Width | 28.7 mm | 48.3 mm | 54.8 mm |
| Depth without connectors | 101 mm | 101 mm | 132 mm |
| Depth with connectors | ~130 mm | ~130 mm | ~180 mm |
Support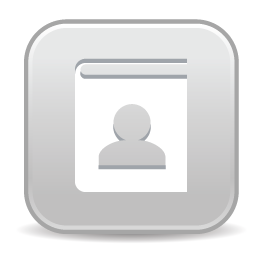 Follow the links here to find contact information for Global and North American support and sales information.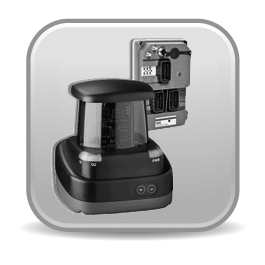 From the AGV Partner Portal you will be able to access our NDC Services, such as Technical Support, Customer Service and Training. This is also where you download our latest NDC software.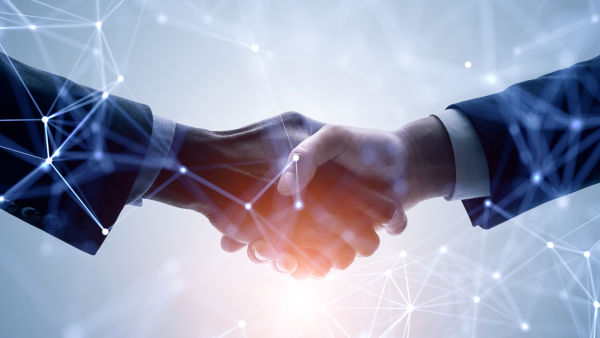 This secure site provides access to confidential material for the private use of approved partners only.
Learn how to engineer exceptional machines, robots and vehicles with the highest-performing, most reliable motors, drives, automation solutions and more.
Learn More