Kollmorgen is a key player in the Industry 4.0 revolution with solutions for robotics and automated guided vehicles with 2,000 people employed worldwide. Our infrastructure, intellectual knowledge, passion and experience are testament to our pursuit of motion excellence. And because of our heritage of customization, we see opportunities, not obstacles.
Why Work for Us?
More than five decades ago, Kollmorgen developed the direct drive technology that enables some of today's most remarkably innovative machines.
We helped engineers build the first self-contained artificial heart. Our end-to-end onsite engineering resulted in China's first air-jet loom for manufacturing, and we've been a pioneer in hybrid motor technology for transportation for two decades.
We work together to win together.
Meet our People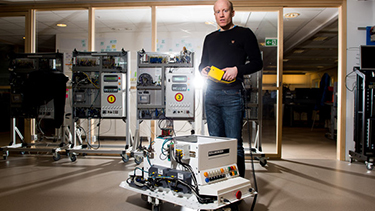 Since I started at Kollmorgen I've been traveling around the world installing our systems at clients and end users' locations. It's been a diverse and interesting job where one's problem solving skills are constantly challenged. Currently I'm aspiring to broaden my repertoire within the field of software engineering, with the ambition to dig deeper into the core of our AGV platform and help make it even better.
As well as learning new skills at work I enjoy challenging myself physically. On my trips I've often joined local associations for some added exercise and cultural exchange; practicing wrestling in Atlanta, Thai boxing in Lausanne or Brazilian jiu-jitsu in Tokyo are some highlights. Back at the office me and some colleagues often go for swims or runs together, and in summer time it's perfect with a beautiful lake close by for joint swimrun events in the morning or during lunch breaks.
Studied: Automation & Mechatronics, Chalmers University of Technology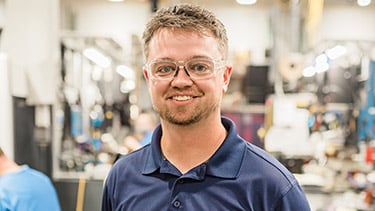 I started with Kollmorgen at the Rock Road, Radford, VA USA manufacturing plant as a Machinist after studying Machine Technology at a local university. I instantly felt right at home in the work environment at Kollmorgen. This was my first Machinist position, so I was nervous about how I was going to perform applying to real life what I'd learned in school. Everyone was so willing to help and share their years of experience. I was promoted to 2nd Shift Lead Machinist at our Kollmorgen Rock Road plant and then transitioned into a first shift Machinist role at Kollmorgen Main Street in Radford, VA USA.
I spent 5 years at Rock Road and, although it was a big step relocating to another Kollmorgen plant, the culture of Kollmorgen encourages growth and I was determined to continue to learn. I truly enjoyed working at Main Street and Rock Road, but after almost 9 years of moving around in Machining positions I was still wanting to grow within the company. I am a true believer in "hard work pays off". I accepted a Manufacturing Engineering Tech Role back at my home base at Rock Road. I've been in this role for one year and I couldn't be happier with my decision. After 10 years at Kollmorgen, spending almost equal time at two plants, I can say with confidence I am looking forward to another 10 years with his amazing company!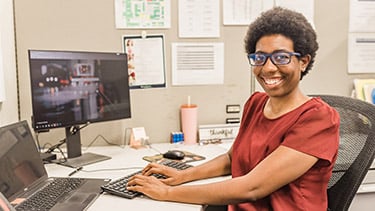 I love problem solving: no problem is too big or too small. If there is a problem, I will find the solution. Whether in my personal life or work life, problem solving is what I love to do and I never tire of it! After solving a problem, I love to apply knowledge of the things I have learned and use it to solve problems that may show up in the future. What I love most about problem solving is that there are so many ways to look at a problem and digest it. There is never just one right way to go about solving something because everyone has a different viewpoint. I enjoy picking problems apart and putting them back together. I love to see how people analyze problems and solve them.
In my role as Systems Application Engineer, this skill is very helpful. There are always new problems to solve daily and customers needing solutions. This role is very rewarding; not only in helping customers but learning new things about our products and how people use them. There are many different systems in the marketplace and systems differ from customer to customer which can present a wide array of problems and solutions. There is never a dull moment in this line of work!
View Our Offices & Open Positions