2nd Generation SafeMotion Improves Productivity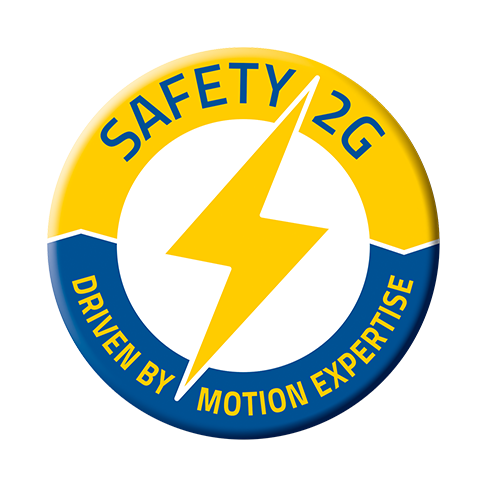 Safety2G increases machine uptime and permits safe interaction between operator and motion
Fast motion or gravity-sensitive loads could be hazardous to machine operators. Traditional safety technology keeps the operator away from the production process via mechanical guarding, hence the operator can't interact with the operation process.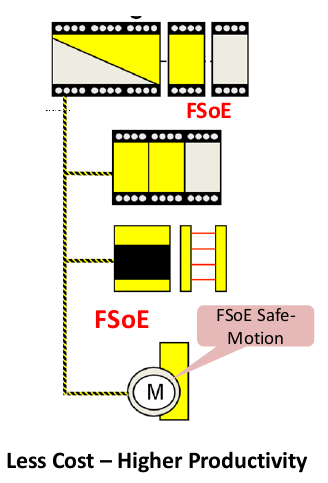 By contrast, AKD2G, with integrated SafeMotion, allows user intervention without interrupting the process. The innovative SafeMotion feature increases productivity by reducing downtime and is available with our AKD2G and S700 drives.
Powerful SafeMotion Functionality
An extensive set of innovative SafeMotion functions enables reduced downtime:
Instead of removing power, permit traverse- or homing motion with high speed and prohibit movement towards the operator.
Scalable functions starting from simple STO up to advanced safety
Monitor the deceleration ramp with SafeSpeed and SafePosition
Controlled SafeStop functions like SBC with SBT or SDB
SafeMotion from the Motion Experts
Kollmorgen is your best supplier for demanding motion solutions. Easy-to-use Kollmorgen SafeMotion makes the difference:
Single Cable Safe DSL encoder simplifies wiring and reduce cost
High-accuracy Safe EnDAT 2.2 interface for direct drive motors
AKM2G supports safe position feedback and qualified brakes for safe brake control
AKD2G also offers a high-end SafeMotion solution:

Simple configuration of parameters via Kollmorgen Workbench
Simplified troubleshooting during commissioning
Simple field drive replacement

Conformance with functional safety standard IEC 61508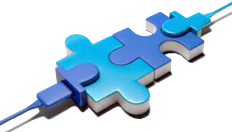 Plug & Safe – Innovation based on Simplified Connectivity
The benefits of safe FSoE (Fail Safe over EtherCAT) combined with drive-integrated SafeMotion:
Lower cost of the safety system due to reduced safety wiring & I/O
Reduced cabinet size due to decentralized safety and fewer components
Reliability increases due to fewer components.
Efficient engineering due to simplified SafeMotion parametrization  → reduced complexity.
Flexible Safety System with Seamless Integration
Smooth migration to the future:
Start by hard-wiring traditional safety devices directly into AKD2G's Safe I/O
Take advantage of existing EtherCAT communication to move to FSoE
Customized according your Needs
Kollmorgen offers thousands of COTS products. We also customize (and co-engineer) solutions, to optimize motion and Safety, in concert with you. We speak your language and solve your challenges with our motion control and SafeMotion expertise. Kollmorgen can provide a Safe servo solution with control, drive, optimized motor with Safe Encoder, and the necessary interfaces. Call us!
Detailed explanation of the various safety functions in Kollmorgen's SafeMotion features in our AKM2G, AKD2G, and S700 products.
Learn More
Learn how to engineer exceptional machines, robots and vehicles with the highest-performing, most reliable motors, drives, automation solutions and more.
Learn More
Related Resources

How can you ensure the safety of vertical loads while complying with ISO 13849-1? On-drive safety functions offer a no-compromise way to simplify brake testing.