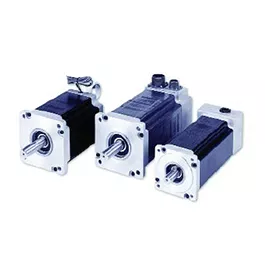 <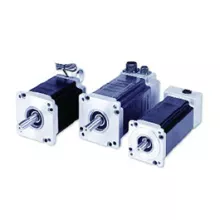 >
ST/SN Series AC Synchronous Motors
ST and SN Series synchronous motors provide high performance in three frame sizes, NEMA 23, 34 and 42 (60, 90 and 110 mm). Resistor-capacitor kits are also available. These motors are driven economically from standard AC line voltage and the synchronous speed is related to the line frequency.

Limited availability outside North America
Features
ST models: NEMA 23 (60 mm), three stack length options with torque ratings to 131 N-cm (185 oz-in)
SN3 models: NEMA 34 (90 mm), three stack lengths with torque ratings from 198 to 636 N-cm (280 to 900 oz-in)
SN4 models: NEMA 42 (110 mm), three stack lengths with torque ratings from 500 to 1059 N-cm (715 to 1500 oz-in)
All models offer flying lead, terminal box, connector and shaft extension options
72 rpm motor speed (with 60 Hz voltage)
Constant speed does not vary with load
120 volt AC models
Fast starting, stopping and reversing
Can be stalled indefinitely without overheating
Standard connections include leaded, terminal box, MS connectors, rear shaft
Learn how to engineer exceptional machines, robots and vehicles with the highest-performing, most reliable motors, drives, automation solutions and more.
Learn More