blog
|
The basics of automated guided vehicles
|
2
minute read
Automated guided vehicles (AGVs) are designed to move materials in factories and goods in warehouses. They are more friendly than manually operated vehicles and more flexible than fixed automation solutions such as conveyor belts.
Works almost everywhere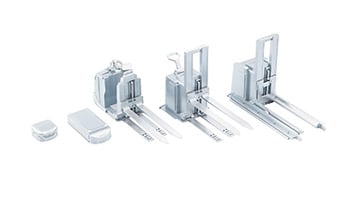 Automated guided vehicles come in many sizes and degrees of customization. Some are based on purpose-built platforms while others are based on standard lift trucks. There is also an increasing number of compact, fast-moving vehicles designed for general purposes like carts and mobile robots.
You find automated guided vehicles in a wide variety of industries, including automotive, ceramics and tiles, distribution, electronics, food and beverage, paper and printing, and steel and heavy goods. Hospitals represent another area where these vehicles bring value by performing repetitive tasks, thereby releasing time for staff to take care of the patients. What is more, automated guided vehicles are especially beneficial in labor-intensive, hazardous or environmentally sensitive conditions.
Controlled driving
There are two ways to guide an automated vehicle: Via physical paths on the floor (magnetic tape, inductive wire, paint) and via free-ranging items (laser reflectors, natural objects in the environment). Every vehicle has corresponding sensors, allowing it to follow a specific path. The path is controlled by computer software for the vehicle fleet which, in turn, is integrated into the plant's warehouse management and business enterprise systems.
The precise control of automated guided vehicles helps boost efficiency, safety and quality in factories and warehouses. Working repetitively also leads to predictability – you get the chance to improve your processes and reduce quality issues to a minimum. Well-defined safety zones further reduce the risk of damage to goods, pallets and racks. Above all, controlled driving minimizes the risk of employees getting injured.