blog
|
The multi-talent in automation
|
2
minute read
The electronics engineer A. M. Barrett Jr. invented the first automated guided vehicle in the 1950s. Today, automated guided vehicles bring value to the most shifting applications.
Intralogistics purposes
Automated guided vehicles improve efficiency, safety and quality in manufacturing and warehousing processes. In manufacturing, typical applications are line to storage, material to line, inventory moves, line production and movement of material between production cells. Moving on to warehousing, automated guided vehicles are used for picking, shipping and receiving, replenishment, dispatch and cross-docking.
When moving heavy goods, such as within the ceramics/tiles and paper/printing industries, automated guided vehicles have been commonly used for decades. You also find these vehicles in other types of factories (electronics, food, metal, mining, tire) as well as in hospitals and pharmaceutical production. Thanks to precise and safe movements, they also contribute to reduced physical damage and personal injuries.
The perfect kickstart
Industry 4.0 is on everybody's lips right now – for good reason. Linking the whole value chain digitally will allow us to produce and move things faster and safer at a higher level of quality. There is only one catch: Where do I start?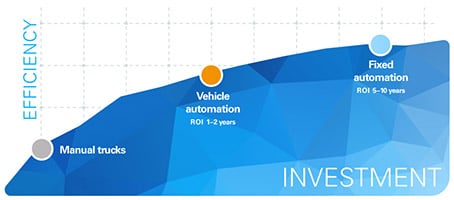 Automated guided vehicles, based on Kollmorgen's NDC Solutions platform, give customers a flying start into industry 4.0. The platform is flexible, well-proven and offers a payback time usually as little as 1-2 years. A reasonable initial investment makes the buying decision easier for management.
The annual production of automated guided vehicles has grown rapidly in recent years. With the industry 4.0 revolution underway and a booming e-commerce sector not least in China, the future of our NDC Solutions platform looks bright.