Success Story
|
2
minute read
V-TAB
V-TAB uses AGVs to minimize damage to paper rolls.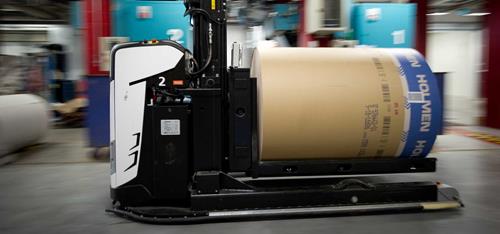 V-TAB, Sweden's largest printing conglomerate, has built a new newspaper printing plant outside Gothenburg where they currently print four different newspapers. Automated Guided Vehicles (AGVs) based on technology from Kollmorgen are used in the printing process to minimize damage to the paper rolls.
The AGV system together with the Warehouse Management System (WMS) was supplied by Rocla, one of Kollmorgen's channel partners supplying AGV systems based on Kollmorgen's AGV controls technology. The AGV system was taken into operation 2010 and consists of two AGVs. The system transports paper rolls from the strip station, where the brown wraps are stripped from the paper rolls, to a temporary storage. The temporary storage is filled with paper rolls to be used during the day/night. Rocla's AGVs also transport paper rolls from the temporary storage to the printing presses when new rolls need to be loaded.
'The benefit of using AGVs instead of manual forklifts or floor conveyors is that you ensure that there will be no damage to the paper rolls during transportation. AGVs are very accurate and pick up, transport, and unload paper rolls with high precision', says Hans-Åke Stjernman, System Engineer at V-TAB. 'This leads to lower operational costs due to less damage to paper rolls and infrastructure and fewer interruptions in the printing process.' Hans-Åke Sjernman was a member of the evaluation team that considered different transportation methods and suppliers.
Kollmorgen, a leading manufacturer of driverless control technology, and Rocla Oy, a leading AGV system supplier, are strategic global partners in applications for automated transportation based on Kollmorgen's AGV controls technology. Kollmorgen control solutions are applied in more than 17,000 AGVs around the globe. Kollmorgen's AGV control solution promises lower total costs for system integrators and end-users. It is applicationsindependent, scalable and works with all AGVs, from the small and simple to the big and complex. It is also easy to integrate with host systems and material handling systems, and because the same platform is used everywhere, the same engineering skill set applies for all types of applications.
View the video: