success_story | minute read
StoVerotec
STOVEROTEC INCREASE EFFICIENCY IN A COLD, HUMID ENVIRONMENT WITH TECHNOLOGY FROM KOLLMORGEN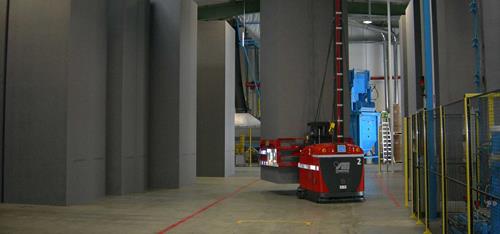 StoVerotec have minimized their internal transportation costs by automating the transportation of polystyrene blocks from the production area to the warehouse. Automated Guides Vehicles (AGVs) from Barbieri & Tarozzi using vehicle automation technology from Kollmorgen, handle loads up to 6 meters high in a non-acclimatized warehouse exposed to the continental climate of South Germany.
The German company Sto AG is one of the world leaders in thermal insulation of facades and interiors in both existing and new buildings. Their subsidiary StoVerotec GmbH has a factory in Lauingen where polystyrene panels are produced. The Italian company Nuova Idropress S.p.A. supplied all the production plant for the polystyrene blocks, including the Automated Guided Vehicles (AGVs) used to transport the blocks from the production line to the warehouse and the cutting line. Using AGVs provides a safer and more efficient operation, giving optimized output yields.
SITI – Barbieri & Tarozzi Group has implemented an AGV system which is capable of coping with StoVerotec's demanding environment. The system is based on the AGV control solution from Kollmorgen that supports multiple navigation technologies and severe environments. The laser navigation sensor (LS5) is designed for rough conditions in the cold and wet, down to -30°C and up to +50°C, with no optical condensation at 95% relative humidity, leading to endless business opportunities. StoVerotec's demanding environment was a clear case for an AGV system. SITI – Barbieri & Tarozzi Group successfully designed an AGV system that can:
transport loads as high as 6.2 meters
store high-density polystyrene blocks in the warehouse into deep stacking in narrow aisles
cope with the tough environmental conditions with high humidity and low temperatures
Thanks to the technology from Kollmorgen an AGV system with dual navigation technologies could be designed. In open areas the AGV uses laser navigation while in the narrow aisles it switches over to magnetic navigation. 'Kollmorgen's components designed for rough environments and the concept of multi-navigation made it possible for us to design an AGV system for this demanding environment', says Fabrizio Bertacchi, Sales Area Manager at SITI – Barbieri & Tarozzi Group. He goes on: 'The cooperation with Nuova Idropress and Kollmorgen, both top-level suppliers, gives us a elevant reference in such markets as the polystyrene one'.
The system currently consists of three vehicles operating 16 hours/day although the system is designed to operate 24/7. 'Both design and commissioning went smoothly thanks to efficient design and the service tools. The alternative to AGVs would have been two manual forklifts operating in two shifts', says Andrea Marazzoli, the electrical engineer responsible for AGV technology at SITI – Barbieri & Tarozzi Group. 'This state of the art technology has been applied with full success and the plant reached full efficiency in the production of EPS panels at StoVerotec in Lauingen' says Mr. Frithjof Koerdt, StoVerotec's Production and Technical Director. Kollmorgen's control solutions are applied in more than 17,000 AGVs around the globe.