Success Story
|
2
minute read
Automating Systems for Metal Forming
Kollmorgen Drives Improvement in Machine Productivity and Flexibility for Leading Italian Metal Forming Company

Challenge
An Italian-based machine builder, supporting over 1,500 factories worldwide with manufacturing solutions for chimney pipes, air conditioning, automotive, and medical-pharmaceutical applications, wanted to position their new machine to take advantage of the growing market trend of increasing variation in pipe shapes and sizes. Needing to enhance acceleration, precision, productivity, and flexibility, the customer required a motion partner to upgrade their capability to enable customized and automated processes.
The machine builder engaged Kollmorgen to collaborate on a new design, with a particular focus on the mechanism driving the spindle and positioning axes. The original machine performance was limited by conventional rotary motors, gearboxes and belts that needed frequent adjustments to accommodate the various pipe diameters and lengths. Resonant frequencies associated with the mechanism's belt tension degraded cut quality and required manual intervention, which increased production time and material waste. The goal was to maximize the time the machine was producing parts.
Solution
Kollmorgen engineers suggested a direct drive approach to eliminate the productivity limitations of the gears and belts, including the resulting system compliance that prevents quicker moves and reduces cut quality. Further collaboration led to the incorporation of the KBM Series direct drive motor into the machine's spindle. The large thru bore diameter provided a unique opportunity for innovation by allowing an automatic centering capability to adjust quickly for tubes of different sizes.
Kollmorgen identified the optimal solution to maximize machine cut time. The design of the machine makes it more flexible and compact, ensuring stable performance over time, remaining constant even with a high number of cycles and no downgrade. The solution enhances performance and adds design flexibility to accommodate the varied pipe diameters and lengths demanded in the customer's markets.
Results
A collaborative approach between Kollmorgen and the customer transformed the company's machine capabilities to deliver a higher level of performance, precision, and accuracy.
Dramatic improvements in precision, rigidity, and high accelerations have resulted in a 20% productivity increase
Improved cut quality has enabled a reduction in material waste
Flexibility in working with pipe diameters of 60 - 820 mm, and lengths up to 1550 mm without time-consuming manual adjustments
Quick and reliable set up has minimized changeover time for new pipe sizes and allowed for automated setup using an optional robotic loader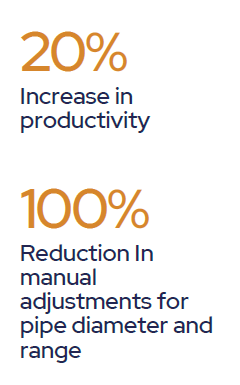 "Cut quality has improved without the need for manual intervention to adjust spindle speed due to belt tension problems. Optimal cut speeds can be achieved based on material and part size." - Angelo Trombetta, Motion Solutions Consultant, Kollmorgen Italia
Learn More
Ready to design and build a more ambitious machine?
About Kollmorgen
Kollmorgen has more than 100 years of motion experience, proven in the industry's highest-performing, most reliable motors, drives, linear actuators, gearheads, AGV control solutions and automation platforms. We deliver breakthrough solutions that are unmatched in performance, reliability and ease of use, giving machine builders an irrefutable marketplace advantage.