blog
|
How Mobile Bots Made it to the Board Rooms
|
2
minute read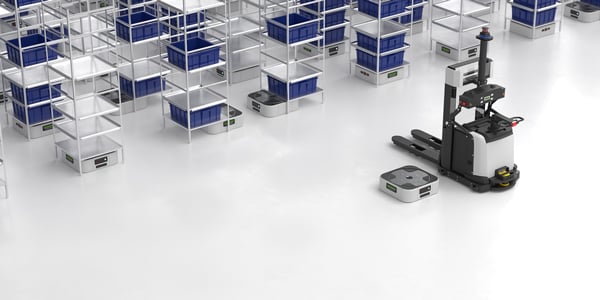 The past decade, I have been fortunate to get to know the world of autonomous vehicles used for logistics and material handling worldwide.
When I started to work for Kollmorgen, the Automated Guided Vehicles (AGV) technology had been available for many decades and truly contributed to the success of many companies in the world. More often, the installations were driven by technology enthusiasts, or early adopters if you may, who wanted to be pioneers and saw AGV systems as a chance to try something new and different. In some cases, the systems installed in lengthy projects were way too complicated and the cost for implementing and maintain these systems were much higher than the value they brought to the chain they operated in. In the bad examples the leadership teams were not even aware what was tested at the shop floor but when budgets were exceeded and return on investment couldn't be seen, the projects sure made their way to the board rooms in a very unpleasant way.
In my first role with the company, I got in contact with one of those systems. One of those lengthy complicated ones. Project plans where renewed, more investments were approved as that was the only way to get coverage for the sunken cost, it was said. The installation was finalized and in the final handover meeting, the project manager on the customer side said, " It has been a long and winding road to get us here, but all in all, even with the extra investments from all included parties, the return on investment is less than 24 months". They later ordered an extension of the installation and the AGV technology is now rolled out widely within their group.
The need for flexible automation for material handling has now moved from being an interesting technology project for enthusiasts to conscious decisions made in the board room of Fortune 500 companies as well as the private owned, small sized company. Why? one may ask. Because the business case is very reliable, and the savings can be predicted if you know what you do.
With a steady growth and a market need that is favorable, more innovators, investors and business developers show up. This leads to more companies, analyses and technology is seeing the light and it can sometimes be hard to distinguish what is real facts and what is marketing buzz.
One thing that is very important to remember, is that new functions like obstacle avoidance and other features, new sensors, Big Data, cloud-based services and 5G is only relevant and important if they in the end add value to a chain of operations. Innovations must always prove themselves valuable!
At Kollmorgen, we Enable Innovators to make the world a better place. Our strive is to combine the latest and greatest innovations with the experience we possess. By doing so, we can offer our strategic partners a very comprehensive toolbox that will enable them to build material handling solutions that are robust and reliable, as well as easy to work with and flexible. We call it NDC Solutions. Our commitment is to offer our partners the best technology there is so they can solve their material handling challenges. In our world, you may define them as AMR's, AGV's, Mobile Robots or Autonomous Transporters, but in the end the only important is that the solution provides value where they are installed. The technology you choose should deliver a favorable business case that makes the world a better place!
We are experiencing critical times and the effects of the coronavirus has already been seen and remains to be seen. It is a terrible pandemic that affects our behavior and the way we will live our lives in the future. One thing is for sure, we will come out on the other side and when we do, automation, material handling and logistics will lead the way to the new future.
Personally, for me and my team at Kollmorgen AGVs & Mobile Robots, health and safety are our highest priorities. We are doing our outmost to help our society fight the outbreak. Meanwhile, we are relentlessly working on bringing new innovative technology to NDC Solutions that will empower businesses with the next generation of automated logistic technology.
If you want to know more about NDC Solutions or how to become a strategic partner, just reach out to us!