blog
|
ChatGPT, Google Bard or Microsoft CoPilot and AGVs: Balancing the Benefits and Challenges
|
2
minute read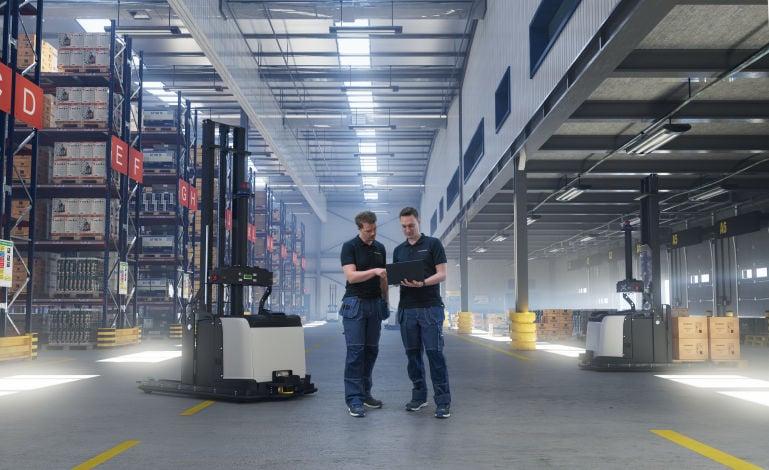 Could prompt AI such as ChatGPT, Google Bard or Microsoft CoPilot revolutionize the AGV arena? Sebastian Witkarsson, Information Security Officer at Kollmorgen, examines the possibilities – and sounds a note of caution.
As industries evolve faster than ever before in an unpredictable and highly competitive global landscape, businesses are always in the hunt for innovative technologies to optimize their operations and boost efficiency. One such groundbreaking technology poised to transform the Automated Guided Vehicle (AGV) market is Chat GPT (Generative Pre-trained Transformer), which was launched at the end of 2022 and which is already making waves across broad swathes of world commerce and communication.
First, what is prompt AI? Think of it as Google taken to a previously unforeseeable next level, in which search commands and requests of intricate detail can be answered – in a matter of seconds – in a dialogue format that also allows follow-up questions. Chat GPT makers says that it admits mistakes, challenges incorrect questions and rejects inappropriate requests*. It adds up to an Artificial Intelligence (AI) technology with the potential to play a defining role in the AGV sector, providing the ability to streamline development, enabling customers to harvest value much more quickly.
The Advantages
Enhanced communication and collaboration are clear potential upsides. Prompt AI's advanced language processing capabilities may enable AGVs to communicate and collaborate seamlessly with humans and other systems. AGVs equipped with prompt AI may also understand and respond to natural spoken language, providing real-time updates, receiving instructions, and executing tasks with greater precision. This level of interaction streamlines communication between AGVs and human operators, with the obvious potential to improve productivity and operational efficiency.
Efficient workflow optimization is another potential benefit because prompt AI has the ability to analyze vast amounts of data and make intelligent predictions. By processing real-time data, the enhanced intelligence of these robots will enable them to identify patterns, anticipate demand, and dynamically adapt their routes and schedules in a new ground breaking way. Prompt AI could thus empower AGVs to achieve efficient resource allocation, reduce downtime, and ensure seamless coordination within complex warehouse and production environments.
Integration of prompt AI in AGV systems could also offer intuitive and user-friendly interfaces, making it easier for operators to interact with the AGVs. Through voice commands, natural language queries, and responsive feedback, human operators could then effortlessly monitor, control, and troubleshoot AGVs. This streamlined user experience would provide the triple benefit of improving system usability, reducing training requirements, and enhancing the overall performance of AGV fleets.
The potential advantages go beyond faster streamlining of processes and easier operator interaction. By leveraging prompt AI's understanding and analysis of textual data, AGVs might predict maintenance needs and troubleshoot issues proactively without additional software and tools. By monitoring sensor data and analyzing maintenance records, these enhanced robots would be able to identify potential faults, schedule preventive maintenance, and notify operators of impending issues. The business benefits of this predictive approach include minimized unplanned downtime, reduced maintenance costs, and extended lifespan of AGV fleets. Of course, such features are already part of AGV capability and benefits in many categories – the point is that they will carry out these tasks more quickly and efficiently.
The Disadvantages
On the downside, the principal area of concern is information security. We know that end users already take great care in ensuring that data is only shared appropriately when employing different cloud-based solutions and services. The enormous wealth of data harvested by prompt AI in an AGV application may make some customer hesitate in considering potential downsides.
"Great care should be taken when considering the results at face value as accurate. This is also something that AI companies warn about, as their services are experimental and the quality of results may vary.
As the new era of AI tools enables innovation and customer value at an incredible pace, we, as users, need to understand the implications of using these new tools and consider implementing guardrails. This will protect not only the information we share when using these tools but also hold us accountable and adopt a critical view of the output of these services. Just as we learn to drive, pass the test, receive a driving license, and drive the car responsibly, we should apply the same level of responsibility to the use of these tools.
We should also expect governments to start regulating this new era of tools and consider the impact on our businesses. It is important to include this in our risk mitigation as we develop ways to learn and utilize these powerful tools."
– Sebastian Witkarsson – Information Security Officer, Kollmorgen
Conclusion
Yes, the integration of prompt AI could bring a new level of intelligence, communication, and decision-making to the AGV market. AGVs equipped with prompt AI could offer increased productivity, streamlined workflows, and improved collaboration within industrial settings. As we move towards a more automated future, the partnership between AGVs and prompt AI holds tremendous potential for transforming the AGV market, revolutionizing the way goods are transported, and enhancing overall operational efficiency. But we must also be cautious - responsibility and care are required to ensure that data security is maintained and monitored.