blog
|
All Together For Innovation: More perspectives mean better ideas and better products
|
2
minute read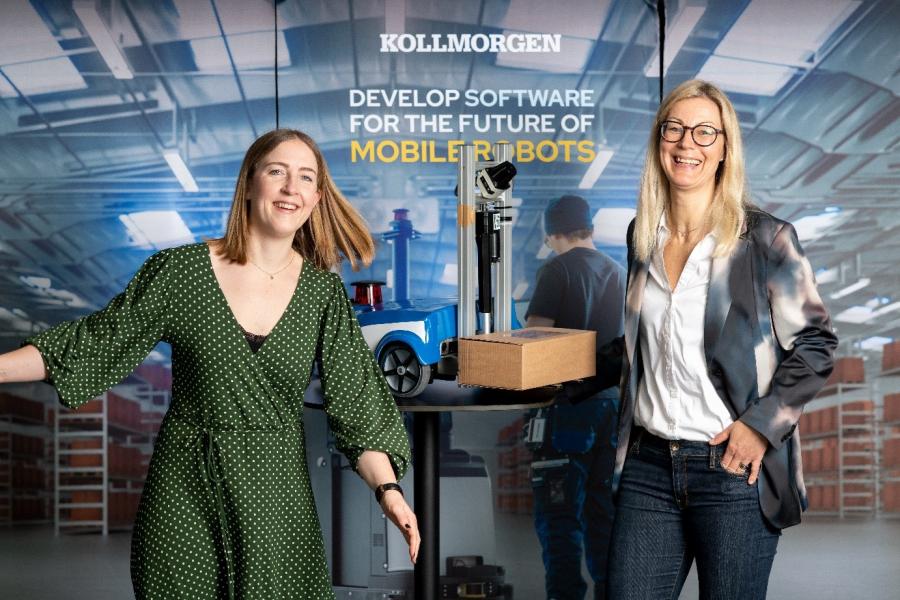 At Kollmorgen, there are more and more female employees every year, which really helps to broaden overall perspectives. Everyone agrees that diversity drives innovation and these values apply to the group at every level.
Kollmorgen's business is at the cutting-edge of technology. In large warehouses and production units, it is increasingly common to see mobile, self-driving robots creating better flows and more efficient logistics. Kollmorgen's smart technology in this growing sector is today found in over 30,000 vehicles worldwide.
Johanna Turesson is Director of Product Management having been at Kollmorgen since 2016:
"I cherish the fact that we have every strand of development, from idea to product, all under one roof. It also means there are many types of roles with us and the opportunity to dip your toe into different areas. Personally, I have had three different roles here at Kollmorgen and all have given me the chance to immerse myself in new skills. One reason this is possible is because everyone has individual development goals to prepare us for new roles."
Malin Nielsen, Global HR Manager, agrees: "The number of development opportunities has excited me since I started, given the size and scale of our company."
Innovation Day
Innovation Day is an event that Kollmorgen conducts every 12 weeks, as the company works in planned 12-week cycles. The 24-hour event involves seeking new ideas on a specific theme. Teams are formed to push a new idea as far as possible before presenting it the next day.
"Innovation Day is a great opportunity to work cross-functionally," says Johanna. "We have employees all over the world and during this unique day we can digest many different perspectives on customer requirements and needs by teaming up with colleagues representing other working cultures and outlooks. Last time I collaborated with a colleague who works in China. It was both exciting and challenging to come up with an idea together."
On a day-to-day level, how does diversity benefit innovation and development?
"For me, it is about getting several perspectives," says Malin. "The contrast in experiences naturally offers new thoughts and ideas about the paths our innovations should take."
"The combination makes the product better," says Johanna. "If you have colleagues from other parts of the world, it simply raises the level, especially as we want to reach an international market."
Benefits of diversity
Johanna and Malin are women in a male-dominated industry, but for them it is anything but a negative.
"Each individual is respected for their competence. I have the opportunity to be competent and to take the paths I wish to - it's not about gender," says Johanna.
"Diversified experiences and perspectives add value for both company and staff," adds Malin. "It's a good feeling to know that there is a focus and training on diversity and inclusion, at group level."
When Johanna started in 2016, there were few women in the development department. Today, the number is significantly higher.
"When we look at the organization today, 25 percent are women," points out Malin. "I believe that talent attracts talent, and in the same way diversity attracts diversity, and women attract women."
Inspiring women at school level
For Kollmorgen, it is important that the recruitment base is wider nowadays.
"When I studied at Chalmers University of Technology, only 10 percent of my class were female," reveals Johanna. "What is happening now is that people are talking about technology in a different way with their children. And we are happy to go out and speak in high schools and at universities about our business journey. We want to inspire more people who study to venture into high-tech industries."
Malin agrees. "The importance of going out to universities, colleges and high schools has been clear for technology companies for a long time. Another change in recent years has been the introduction of programming to primary school schedules, so it's all heading in the right direction," she concludes.