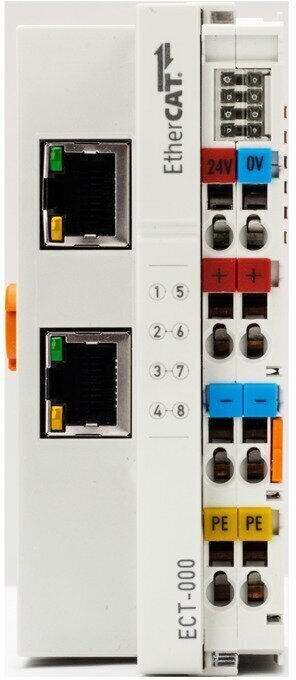 <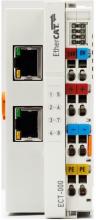 >
EtherCAT® Bus Coupler
The EtherCAT® Bus Coupler connects the real-time Ethernet system with modular, extendable electronic terminal blocks. A complete unit consists of a bus coupler, a set of bus terminals and one end terminal.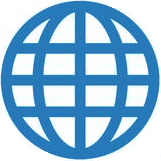 Product available worldwide
Features
The EtherCAT Coupler connects EtherCAT, the real-time Ethernet system, with the modular, extendable electronic terminal blocks. A unit consists of a Bus Coupler, a set of terminals, and one end terminal.
The Bus Coupler recognises the connected Bus Terminals and automatically allocates them into the EtherCAT process image. The Bus Coupler is connected to the network via the upper Ethernet interface. The lower RJ 45 socket may be used to connect further EtherCAT devices in the same strand.
In the EtherCAT network, the EtherCAT Coupler can be installed anywhere in the Ethernet signal transfer section (100BASE-TX) – except directly at the switch.
EtherCAT (Ethernet Control Automation Technology) is the Ethernet solution for industrial automation, characterized by outstanding performance and particularly simple handling. EtherCAT enables the Ethernet star topology to be replaced with a simple line structure. Optionally, EtherCAT may also be wired in the "classic" way using switches, in order to integrate further Ethernet devices. The master requires no special plug-in card and can be implemented on any existing Ethernet controller using a very simple interface. EtherCAT is therefore also well suited to small and medium control applications, where it will also open up new areas of application for distributed I/Os.
For EtherCAT a separate I/O system in protection class IP 20 is available in the form of EtherCAT Terminals. In contrast to Bus Terminals, where the fieldbus signal is implemented within the Bus Coupler on the internal, fieldbus-independent terminal bus, the EtherCAT protocol remains fully intact down to the individual terminal.
The EtherCAT Coupler supports the operation of all Bus Terminals. As far as the user is concerned, handling of the analog inputs/outputs is not different to other series. The information is available in the process image of the controller for processing in the form of a byte array.
The analog and multifunctional Bus Terminals can be adapted to each specific application. Depending on the type, the analog Bus Terminals' registers contain temperature ranges, gain values and linearisation characteristics. The Bus Terminals store settings permanently and in a fail-safe manner. Optionally, the Bus Terminals can also be controlled by the control system. Via function blocks (FBs), the programmable logic controller (PLC) handles configuration of the complete periphery during the start up phase. If required, the controller can upload the decentralized created configuration data in order to centrally manage and store this data. Therefore, new adjustments are not necessary in the event of replacement of a Bus Terminal. The controller automatically sets the required setting on power up.
Specifications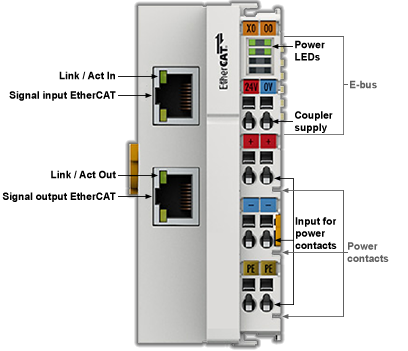 | Characteristic | AKT2G-ECT-000-000 |
| --- | --- |
| Protection Class | IP20 |
| Higher level network technology | 100 MBit FastEthernet (100BASE-TX) |
| Higher level network - max. connection length | 100 m |
| Higher level network connection technology | RJ45 |
| higher-level network protocol | EtherCAT Device Protocol |
| supports HotConnect with address setting on the device | yes, Fast-Hot-Connect |
Technical Data
AKT2G-ECT-000-000

Task in the EtherCAT system

Coupling of EtherCAT Terminals (ECT-xxx) to 100BASE-TX EtherCAT networks

Number of EtherCAT Terminals

up to 65535 in the overall system

Number of peripheral signals

max. 4.2 GB addressable IO points

Data transfer medium

Ethernet 100BASE-TX (at least Ethernet CAT5 cable)

Cable length between 2 Bus Couplers

max. 100 m (100BASE-TX)

Protocol / Baud rate

EtherCAT Device Protocol / 100 MBaud

HotConnect

no
Delay

1 µs typ.

Bus connection

2 x RJ45

Power supply

24 VDC (-15%/+20%)

Current consumption

70 mA + (∑ E-bus current/4)

E-bus power supply (5 V)

max. 2 A (-25 °C ... +55 °C)

max. 1 A (> +55 °C)

Power contacts

max. 24 VDC, max. 10 A

Electrical isolation

500 V (power contact/supply voltage/EtherCAT)

Dimensions (W x H x D)

approx. 44 mm x 100 mm x 68 mm

Weight

approx. 105 g

Permissible ambient temperature range during operation

-25°C ... +60°C (extended temperature range)

Permissible ambient temperature range during storage

-40°C ... + 85°C

Permissible relative air humidity

95%, no condensation

Mounting

on 35 mm mounting rail according to EN 60715

Vibration / shock resistance

conforms to EN 60068-2-6 / EN 60068-2-27, see also Installation instructions] for enhanced mechanical load capacity

EMC immunity / emission

conforms to EN 61000-6-2 / EN 61000-6-4

Protection class

IP20

Installation position

variable
Approval

CE, ATEX, cULus, IECEx
Support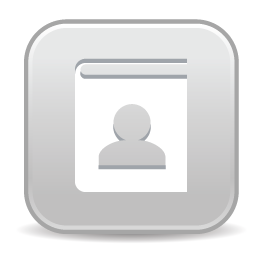 Follow the links here to find contact information for Global and North American support and sales information.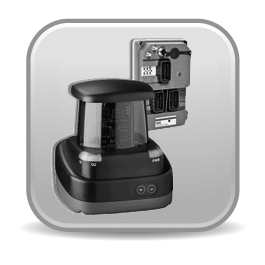 From the AGV Partner Portal you will be able to access our NDC Services, such as Technical Support, Customer Service and Training. This is also where you download our latest NDC software.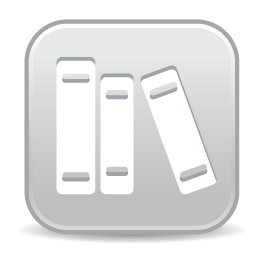 This secure site provides access to confidential material for the private use of approved partners only.
The AKT2G-BRC-000-000 EtherCAT Terminal contains high-performance capacitors for stabilizing supply voltages. The AKT2G-BRC-000-000  can be used in conjunction with the AKT2G-SM-L15-000 or AKT2G-SM-L50-000 stepper motor drive terminals.
Learn More
The AKT2G-SM-L50-000  EtherCAT Terminal is intended for the direct connection of stepper Motors in the mid power range up to 5 A and a voltage range from 8-50 V.
Learn More
Learn how to engineer exceptional machines, robots and vehicles with the highest-performing, most reliable motors, drives, automation solutions and more.
Learn More