blog
|
Automation in a Single Day with Game-Changing DIY Platform
|
2
minute read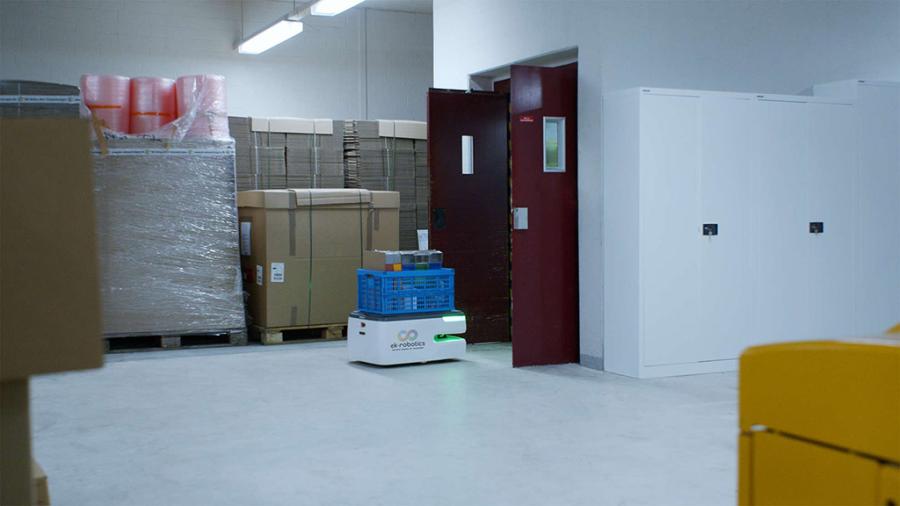 Accessible and affordable automation for all has made a giant leap forward with the release of an AMR platform that enables users to install out-of-the box automation technology in less than a day.
With Automated Guided Vehicle (AGV) capability historically best-suited to high-intensity production logistics settings, Kollmorgen's brand-new NDC S platform is generating new excitement because it brings game-changing transport automation technology within the reach of dynamic, flexible environments. In partnership with experienced AMR and AGV manufacturing innovator ek robotics, it has already been tested at a German-based pilot customer.
Autonomous Mobile Robots (AMR) are used in logistics to move goods and items around a facility, both optimizing processes and dramatically reducing the historic reliance on manual resources.
The NDC S platform gives end customers the DIY opportunity to set up and install their own AMR solution straight out-of-the-box with no training or prior experience, all in less than a single working day.
No Training, No Extras
"Everything you require is in the box," confirms Johanna Turesson, Strategic Development Manager at Kollmorgen's Sweden-based AGV division. "Without any extra infrastructure or training, you can begin your automation journey."
Customers need not fear a spate of unwelcome collisions. "The NDC S platform is very safe around humans or other robots," she explains. "The vehicle will either drive around obstacles or simply stop."
Adaptability and flexibility are key to the NDC S promise. "NDC S allows you to build and operate AMRs with ease according to your needs and those of your customers," she goes on. "The platform is based on both hardware and software, with all tools needed for installing, overviewing and analyzing improvements accessible in a web browser."
Customer Praise
German-founded transport robotics specialist, ek robotics, which has been manufacturing AGV systems for decades, is partnering with Kollmorgen's technology. The two motion and automation experts have teamed up to create a value-adding AMR solution for a pilot customer, German electronic specialist, Heiz24.
"We really appreciate our collaboration with ek robotics. They stand for powerful technology paired with infinite inventiveness and unique engineering skills, which enables them to understand the challenges within logistics and take bold initiatives together with Kollmorgen," says Johanna Turesson.
Jan Drömer, CIO (Chief Innovation Officer), ek robotics, agrees. "The NDC S platform really delivers what we were looking for in terms of ease of use for our customers, as well as delivering flexible and dependable navigations in various kinds of changing environments," he says. "At Heiz24, the logistics environment is constantly changing, so the robot has to learn autonomously about that environment, build its map, and navigate precisely within that constantly-changing map."
Heiz24 is a sustainable ecommerce business that specialises in buying, selling and refurbishing legacy electronic parts for heating systems.
"We ship 20k packages a year thoughout Europe, so we have to move them internally first and foremost, which takes a lot of time," says Matthias Falkenberg, founder and CEO, Heiz24. "ek robotics and Kollmorgen created a very simple solution which could enable us to optimise value-adding tasks, and help us to grow our business."
His colleague Marc Delfs, Project Management, Heiz24, agrees: "Using AMRs is way easier than I first thought, perhaps similar to installing an automated vacuum cleaner. You can install it from the user interface very simply and quickly."
Light and Flexible Environments
Traditionally, AGV solutions have been best suited to fixed, complex business settings, such as production logistics. Andreas Böttner, CEO ek robotics, believes that this mindset is about to change for good. "The largest market by far does not want solutions of that nature," he suggests. "Light industrial production, light industry, or office environments always require transport. And that is where we will provide a solution – fast, highly sophisticated technology that will assists you in your daily work bringing items from A to B."
Jan Drömer concludes: "We believe that it's time to make the benefits of automation available to a wider audience, freeing up their workforce to enhance their productivity and their operations. We believe AMRs can play a key role in doing that."
For more information about how NDC S can add value to your business in less than a day: kollmorgen.com/agv
About Kollmorgen's NDC Solutions
Kollmorgen NDC is the industry leading platform used by vehicle builders to create driverless logistics automation solutions. With Kollmorgen NDC you may automate virtually any type of vehicle or robot, and integrate it to any type of material handling application, in any industry, worldwide.
About ek robotics
ek robotics is the world's leading manufacturer and system integrator of innovative high-tech transport robotics for production and warehouse logistics. At five locations in Europe (Rosengarten, Germany, headquarters), Reutlingen (Germany), Milan (Italy), Prague (Czech Republic) and Buckingham (UK), the transport robotics specialist with more than 250 employees creates intelligent, networked and flexible transport solutions for the fully automated, in-plant material flow of its global customers. With more than 50 years of experience in design, development, manufacturing, integration, turnkey delivery and support throughout the entire lifecycle of automated guided vehicles (AGVs), ek robotics is among the technical elite in this fast-growing industry of the future.