Success Story
|
2
minute read
Transbotics
A GLOBAL PRIMARY METAL MANUFACTURER USES AGVS TO MOVE HEAVY LOADS IN A HIGH TEMPERATURE ENVIRONMENT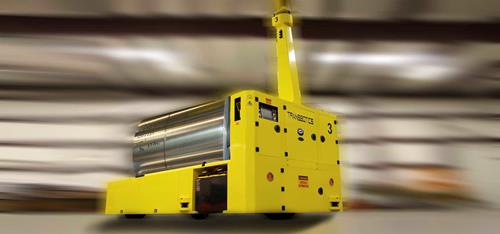 An international primary metal manufacturer uses Automated Guided Vehicles (AGVs) in a new plant to move heavy loads in a high temperature environment. The AGVs were implemented to provide reliable transportations and to minimize damage to the load. The customer was so pleased with the benefits of the AGV system that they have implemented the solution in multiple plants around the world.
Transbotics, a global channel partner to Kollmorgen, has implemented an AGV system based on Kollmorgen's AGV control technology in a new plant for an international primary metal manufacturer. The customer needed a cost-effective solution capable of consistently moving coils and work rolls through the production process. One challenge was the different shape of the load and its extreme temperature. The 20 ton coils varied substantially in size compared to the work rolls and the surface temperature could well exceed 150 C˚ (~ 300 F˚). Adding to the challenge was meeting the speed requirement while keeping the load stable and transportation reliable. "The customer's primary concern was the movement of extremely hot, large loads reliably and without damaging a pliable load", explains Jayesh Mehta, Marketing & Aftermarket Sales at Transbotics.
Transbotics used Kollmorgen components designed for rough environments to provide a heavy-load laser guided vehicle for the application. Kollmorgen's laser navigation platform is already successfully guiding well over 10,000 AGVs. Kollmorgen's AGV control solution promises lower total costs for system integrators and end-users. It is applications-independent and scalable, from the small and simple to the big and complex. The control solutions are applied in more than 17,000 AGVs around the globe. The benefits of the AGV system were immediately recognized. The fast Return-On Investment (ROI) of the AGV system and the reliable transportations day after day were so appreciated by the customer that they have implemented the solution in multiple plants around the world.