success_story | minute read
Borealis
Borealis uses AGVs to minimize operational cost and damage to goods.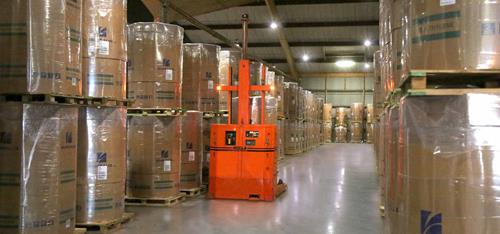 By introducing automated guided vehicles (AGVs), Borealis in Stenungsund, Sweden, optimized both its product storage and dispatch efficiency with measurable results. Additionally, Borealis was able to increase its warehouse capacity by reducing the breadth of storage access lanes without increasing the risk of product damage.
Borealis provides polyethylene granules to a multitude of worldwide customers. These granules are the raw material used primarily by wire & cable and pipe manufacturers in large energy supply, oil and water pipeline projects. In 2001, Borealis improved its product handling by introducing automated guided vehicles (AGVs) provided by Rocla Oy, based on Kollmorgen technology. Thanks to laser guidance, AGVs operate with consistent accuracy and precise movements, greatly increasing safety and product integrity. At the same time, they have reduced labor and associated costs due to human error. To decrease the likelihood of accidents further, AGVs are restricted in areas where manual truck operations are underway. Borealis plans to use their AGV fleet for many years to come. "There are no competitive alternatives to AGVs," says Peter Nyqvist of Borealis, "The warehouses will remain and the AGVs seem to be made like tanks, it is a pity that other electronic equipment cannot last as long."
Kollmorgen, a leading manufacturer of driverless control technology, and Rocla Oy, a leading AGV system supplier, are strategic global partners in applications for automated transportation based on Kollmorgen's AGV control technology. Kollmorgen control solutions are applied in more than 17,000 AGVs around the globe. Kollmorgen's AGV control solution promises lower total costs for system integrators and end-users. It is applications independent, scalable and works with all AGVs, from the small and simple to the big and complex. It is also easy to integrate with host systems and material handling systems, and because the same platform is used everywhere, the same engineering skill set applies for all types of applications.
View the video: