blog
|
Smart Technologies Are Changing Packaging Performance
|
2
minute read

The rise in consumer demand is driving the growing need for more throughput, more product per minute, and more repeatable and accurate performance of packaging machines. This demand is moving the industry toward more integrative and automated technologies to deliver efficiencies and performance in the packaging machine market. This integration is also creating smaller and more compact packaging machines, a common trend in the packaging industry and most technologies in general. 
However, the standard approach is to add separate devices, such as a servo drive and a programmable controller, and try to integrate them. Suppliers typically make a component and leave it to the machine designer and builder to figure out how to integrate it into an existing system or how to get components to work together for a new build. This can lead to a system that isn't fully integrated or doesn't realize the performance that packaging machine users need. 
A new approach to meet rising demand in the packaging machine market is to use integrated, smart technologies with open architectures that take advantage of smart computing to build new or upgrade existing systems. Not only are these new technologies providing more throughput and product per minute, but they are also being used for predictive modeling and maintenance to drive even greater efficiency and for advanced machine safety.
Starting with Integration, Ending with Simplicity
Using highly integrated components is the first step in creating an advanced packaging machine. But combining and integrating components doesn't necessarily mean it is simple or easy to use. This is where smart design comes in. For example, combining a servo drive with an embedded motion controller in a single package saves space and cost, reduces the level of integration and eliminates the need to wire another device into the panel.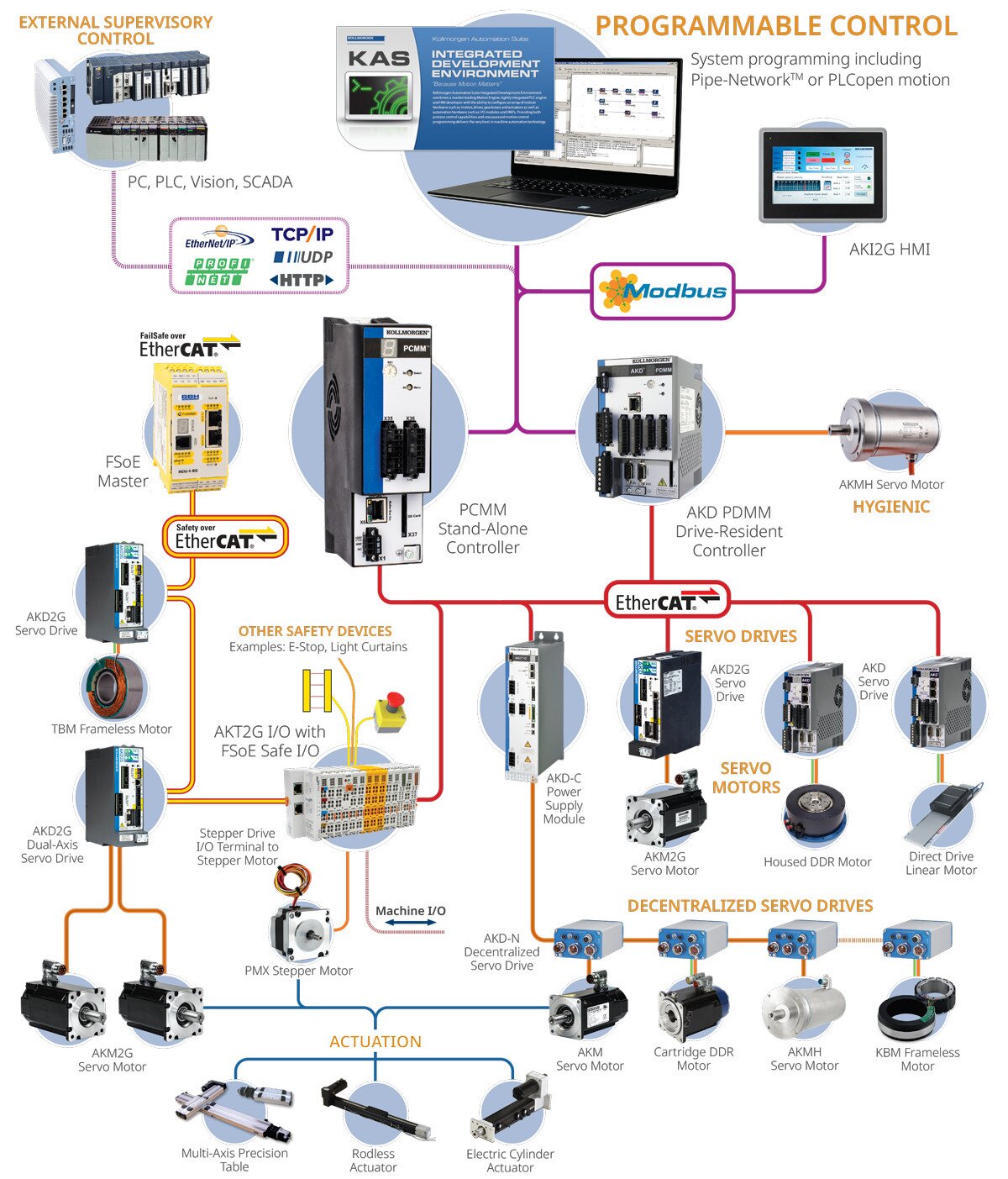 Kollmorgen Automation Suite is a machine automation solution that brings together hardware, a highly integrated and intuitive software programming environment, and advanced safety features to create a highly differentiated machine. This integration has helped to accelerate development time, increase machine throughput, reduce scrap and increase overall equipment effectiveness.
Eliminating the need to integrate the control system at the machine level saves the OEM engineering team time when creating the machine. A smaller panel is less expensive and helps the OEM to make a smaller machine overall, which takes up less floor space for the eventual end user. It's possible to embed machine and motion controls in a machine controller that includes integrated control for multiple servo and stepper axes, complete I/O, HMI interface and Fieldbus connectivity. This type of integration is particularly useful when paired with open-architecture systems.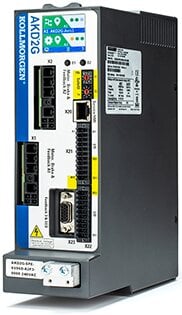 Whereas closed architectures use pre-engineered products that are difficult to update, open and distributed systems can adapt to the needs of the packaging manufacturer by allowing various components to work and integrate seamlessly with the existing system or new design. For example, using an integrated graphical programming environment that automatically realizes multiple variables makes for easier programming. Even though all modern packaging machines have an HMI that runs a visualization program to interface with the machine, using an HMI that runs its own programs created within a graphical programming environment creates more flexibility and ease of use for the end user. Read more about drive-resident graphic display.
The AKD2G by Kollmorgen is a dual-axis servo drive with expandable I/O, removable memory, dual-channel STO and the first drive-resident graphic display in the industry. The dual-axis design provides twice the power density over single-axis drives and uses 20% less space compared to other dual-axis drives on the market. 
Using Smart Technologies
Smart technologies use automatic recognition and web-based operations to communicate and connect multiple devices within the same machine. For example, when an integrated servo drive with a motion controller is connected to several other servo drives or I/O modules, it should automatically recognize itself and the other servo drives on the network. The machine builder then just maps them to the physical axis names. 
A packaging machine that uses web-based operations allows users to check the status of each axis, start or stop the machine, and command backup and restore functions. Through a dedicated IP address or connection to a server, operations or engineering personnel can check the status of a machine or even a controller through any web browser. 
Using a recognized standard for PLC programming or motion controllers, such as IEC-61131-3 or PLCopen for Motion, allows machine builders that are more comfortable with ladder programming, structured text or any other IEC-61131-3 language to build machines that can easily integrate with other components that use the same standards.
Integrated Technologies for More Responsive Safety
The primary concern for any type of machinery is safety. For packaging machines, the traditional approach is to add separate safety modules and then integrate it with the machine. New technologies allow for safety functions to be 100% drive resident, eliminating the need for external solutions that depend on complex integration between the controller, safe PLC and drive. Having safety functions reside solely on the drive allow it to react more responsively than separate components. 
Safety functions that are drive resident can be programmed to operate automatically without explicit commands from an operator. For example, an axis could be programmed to apply the brakes automatically in the event of a power failure, so it doesn't fail and drop a load. 
Advanced drive-resident safety features can not only protect an operator but also maintain machine productivity even during times when a machine would normally be taken offline. For example, cleaning a packaging machine would traditionally require powering down the machine, cleaning it and powering it back up, taking the machine out of product for the entire cleaning process. Using drive-resident safety features such as safe limited speed function allows the machine to be cleaned while still in operation, eliminating downtime while still maintaining operator safety. Read more about drive-resident safety functions.
Powerful SafeStop Functions
STO (Safe Torque Off)

Remove power to the motor but leaves the drive energized for fast restart.
SS1 (Safe Stop 1)

The drive is brought to a standstill by controlled braking. After a specified time the power supply to the motor is safely interrupted by internally activating STO.
SS2 (Safe Stop 2)

The drive is brought to a standstill by controlled regenerative braking and subsequently remains in controlled standstill.
SBC (Safe Brake Control )

Safe control of an electromechanical holding brake; typically for vertical axes.
SBT (Safe Brake Test)

In order to realize a Safety Level of SIL2 or higher, the electromechanical brake must be tested.
SDB (Safe Dynamic Brake)

In some applications, it will be very beneficial to short the motor wires via "Safe" relays rather than using an electromechanical holding brake.
Kollmoregen's SafeMotion Monitor includes a full range of ISO Certified options to suit virtually any functional safety requirement. These safety functions are 100% drive-resident, eliminating the need for external solutions that depend on complex integration between the controller, safe PLC and drive. 
Advanced Maintenance and Performance Metrics
Web-based operations allow users to check the status of each axis and start or stop the machine remotely. This ability to monitor the machine in real time presents the opportunity to conduct preventative maintenance work, which improves overall safety of the machine. Additionally, no PC software or keypad programming is needed to configure the machine in a replacement or preventive maintenance situation, which can significantly increase the uptime of a packaging line. This is commonly referred to as "the third-shift paradox," where the unexpected happens on the third shift when most companies are running the machine with limited support. These tools help to mitigate some of this risk.
Beyond preventive maintenance, an upside to an integrated machine with internet connectivity is that it provides more data to the end-user for performance trending to improve operational efficiency. Automatic backup and restore functions enable a change out of the servo drive with no configuration needed. Information is centrally stored and downloaded, and an integrated help support system is often built directly into the development software with an integrated help function.
Creating Machines that Adapt to Evolving Needs
Smart, integrated technologies create value for packaging machine operations beyond a smaller footprint: predictive maintenance and performance modeling, advanced safety features, easier integration of various components, and ease of use and configuration for the end-user.
When upgrading or building a new packaging system, consider that most equipment manufacturers are using pre-engineered products that lock the user into a system for 10 or more years. This can be especially painful when a packaging manufacturer or end user is trying to continuously improve operations and adapt the machine to evolving needs. The equipment manufacturer should listen to input from its users and help them achieve their long-term goals.
For Every Motion: Kollmorgen
For more than 70 years, Kollmorgen has designed and created motion systems that meet the needs of modern packaging and manufacturing. From our motion and machine controller to the AKD2G servo drive and AKM2G servo motor to the Kollmorgen Automation Suite, a machine automation solution that brings together highly integrated software, best-in-class motion control, SafeMotionTM capabilities, Kollmorgen's motion systems have the type of integration, intelligence and automation helps OEMs create machines that can be flexible and responsive to their customers' needs.
We provide co-engineering and in-region support for fast production ramp-up and long-term sustainable supply chain, so you can depend on Kollmorgen for reliable deployment for the life of your machine packaging equipment. From concept to production, Kollmorgen is the one partner you need for the most ambitious design, the most capable engineering and the most confident delivery.