Back to top
POWERMAX II® M and P series
Ideally suited for lower loads, the POWERMAX II® M and P Series is designed to provide exceptional value, versatility and ease of use. Among the most powerful stepper motors available, they deliver high torque in a compact package and are available in a wide range of frame sizes, constructions, and optional modifications. POWERMAX II has an extremely competitive market lead time and is backed by UL and CE certifications.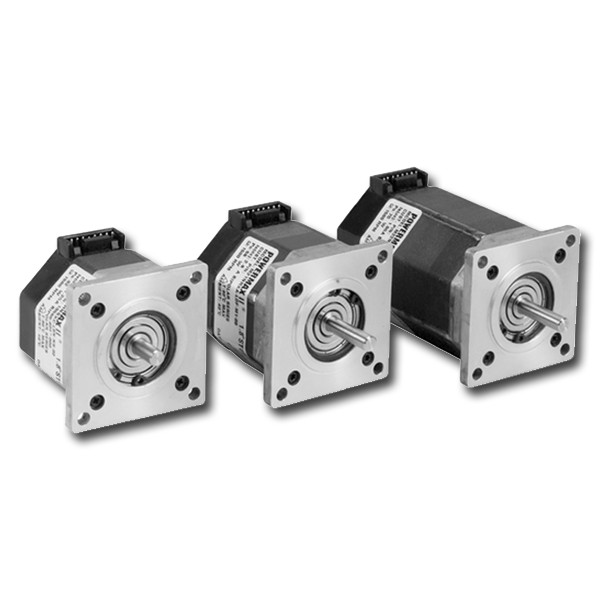 Features
Features & Benefits
Features
P2 models: NEMA 23 (60 mm) motors available in 3 stack lengths with torque ratings from 0.30 to 1.51 N-m (42 to 214 oz-in) nominal holding torque
M2 models: NEMA 23 (60 mm) motors available in 2 stack lengths with torque ratings from 0.67 to 1.79 N-m (95 to 253 oz-in) nominal holding torque
Available with affordable co-engineered modifications to suit your application needs, time frame and budget
Numerous standard modifications and customer-specified options
Speeds up to 3,000 rpm meet the velocity demands of most high-torque applications
Oversized 30 mm bearings increase bearing and motor life
Complete subassemblies available
UL, CE, RoHS and REACH certifications
Benefits
Broad product line with flexible modifications and rapid prototyping for exceptional design flexibility
Quality construction for reliability and long service life
Designed for quick, easy integration into new and existing applications
Global supply footprint with localized support
Competitive pricing and lead times
Specifications
Specifications
Motor Model
Motor Length mm(in)
Max Holding Torque N-m(oz-in)
Inertia kg-m2(oz-in-s2)
Weight kg(lb)
P2H
40.6 (1.60)
0.43 (61)
0.00000706 (0.0010)
0.45 (1.0)
P21
52.3 (2.06)
0.80 (114)
0.00001200 (0.0017)
0.68 (1.5)
P22
78.7 (3.10)
1.51 (214)
0.00002542 (0.0036)
1.13 (2.5)
M21
52.3 (2.06)
1.01 (144)
0.00001200 (0.0017)
0.68 (1.5)
M22
78.7 (3.10)
1.78 (253)
0.00002542 (0.0036)
1.13 (2.5)
Standard Modifications
Modification Is Our Standard
Shaft modifications including:

Special diameters and lengths
Special details including flats, dual flats, slots and thru holes
Spline shafts, helical gears, fixed acme lead screws

Special windings to accommodate current, resistance or inductance requirements
Customer-specified cable options, lead colors, lead lengths and connectors
Customer-specified, factory-mounted encoders, including a choice of encoder types and line counts
Complete subassemblies shipped directly from the factory to simplify engineering and integration
Kollmorgen can evaluate further customization as needed. Contact our Customer Support team with your specific requirements.
Fully Customizable
We Can Also Fully Customize
Don't see what you need? We'll work with you to customize a perfect fit for your application, with rapid prototyping and ramp-up to full-rate production. Get in touch and let us know what you are looking for.
Get Started
Get Started
Count on Kollmorgen support to help you design and build a successful machine and keep it reliably productive, anywhere in the world. Our co-engineering experts will work with you to tailor a perfect-fit solution for your motion requirements.
Talk to a motion expert