Kollmorgen NDC Relocates to a New Premises in Gothenburg
-
Europe
|
Kollmorgen NDC is relocating to a new premises in Gothenburg. The move is part of a strategic initiative to meet the future demands for AGVs and Mobile Robots, by expanding the business and increasing the innovation and development capacity.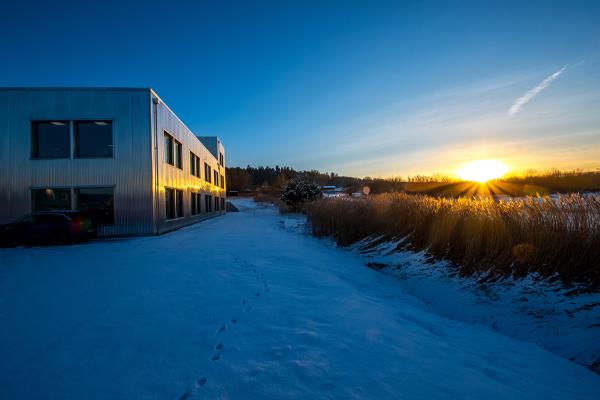 Relocation is part of a strategic growth initiative
Increases speed of innovation and development
Improves training experience for partners and end-users
Hosts a new AMR innovation lab
"We grew faster than expected these past 10 years, with a substantial increase of recruitments and investments. In addition to our requirement for larger office space – a key driver for our move was to streamline the daily work of our engineers. The new office building is located next to our testing and simulation center, which is a warehouse environment for running AGVs and Mobile Robots. Expanding the premises around our test center was part of the plan", said Tobias Byfeldt, Managing Director, Kollmorgen Automation AB.
Aimed to act as an innovation and development catalyst, the seamless integration between the test center and the office will dramatically save time for engineers to iterate between code and physical tests. The new premises also hosts an AMR-specific innovation lab, focusing entirely on developing fully autonomous navigation technology. In addition, the facility will improve the training experience for Kollmorgen's partners and end-users, both taking part on-location and in virtual sessions.
Located in Sisjön, Gothenburg, one of the most commercially dense areas of Northern Europe – the new 1.900 m2 premises are custom designed for Kollmorgen, incorporating specific technical, environmental, human, and cultural aspects.
"It is exciting to move into a brand new office which by its' design supports the cornerstones of our culture; innovation, cooperation, and having fun at work. By carefully listening to our entire workforce, we have tried to understand how we want to work – and what we need to excel at what we do. This common voice has materialized into an architectural vision that reflects who we are", said Malin Nielsen, Global HR Manager, Kollmorgen Automotion.
About Kollmorgen's NDC Solutions
Kollmorgen NDC is the industry leading platform utilized by vehicle builders to create driverless logistics automation solutions. The platform consists of both software to route vehicles efficiently, and hardware for navigation and control. With Kollmorgen NDC you may automate virtually any type of vehicle or robot and integrate it to any type of material handling application, in any industry, worldwide.