Switch On Sequence
Valid for S300, S700
General
The behavior of the servo amplifier always depends on the current setting of a number of different parameters (e.g. ACTFAULT, VBUSMIN, VELO, STOPMODE etc.).
The built-in safety function STO can be used to switch off the drive, so that personnel safety is ensured at the drive shaft.
In case of a built-in safety card in the S700, please check the "Ready Acknowledge" (X30 Pin 16) signal before enabling the servo amplifier. An error would occur, if you enable the servo amplifier without ready to operate safety card.
The diagrams below illustrate examples for the correct functional sequence for switching the servo amplifier on and off.
Without holding brake
Switch on and switch off behavior: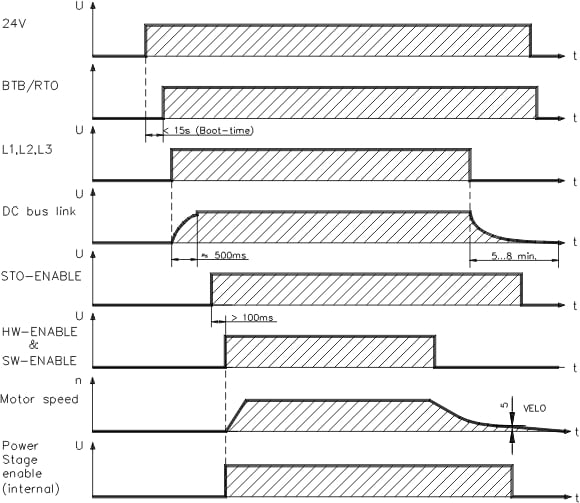 With holding brake
Devices which are equipped with a selected (holding- ) "Brake" function use a special sequence for switching off the output stage.
This is an example for S700: