blog
|
Collaborative Robots (cobots) - Who Benefits?
|
2
minute read
Collaborative robots (cobots) are robots designed to work safely with and next to their human counterparts. A subset of collaborative robotics has innovative safety techniques that completely eliminate the need for a safety barrier between the human and the robot. This enables a wide range of applications to deploy and benefit from this collaborative robot technology.
Traditional Industrial Applications
There are a lot of traditional applications that benefit from collaborative robotics which are repetitive and physically demanding, such as: Assembly, Loading/Unloading, Packaging, Sorting, Dispensing, Sanding and Polishing. These types of applications will continue to benefit as the adoption rates increase across a range of business sizes. Robots are no longer for only the large industrial manufacturers. Many OEMs see ROIs less than 1 year with today's collaborative technology. In addition to reduction of labor costs and increase in product productivity, these robots allow facilities to reduce assembly line sizes and co-locate the robots to work directly next to their human counterparts. Finally, some collaborative robots can work in the complex human environment without large installations of external sensors and barriers. This allows facilities to deploy robots, remove robots or deploy humans as required in the current working environment. This enables flexibility that is required by a lot of high mix, low volume manufacturing facilities. To read about the different type of robots, visit our Robotics page.
Complex and Dangerous Applications
A collaborative, complex sensing robot not only allows a robot to work next to a human counterpart, but it also allows it to work in complex and dangerous applications that still would be difficult to deploy a traditional robot. Applications like painting or removing paint from large ships traditionally expose a person to dangers including chemicals and height. Now robots can be deployed to do this work without the overly complex task of installing guides, tracks or sensors on the ship. Another application is disaster recovery robots where robots are deployed to complete a task in an unknown and challenging terrain. Read about the NREC's Tartan Rescue Team CHIMP Humanoid Robot, competing in the DARPA Robotics Fukushima Daiichi Challenge here.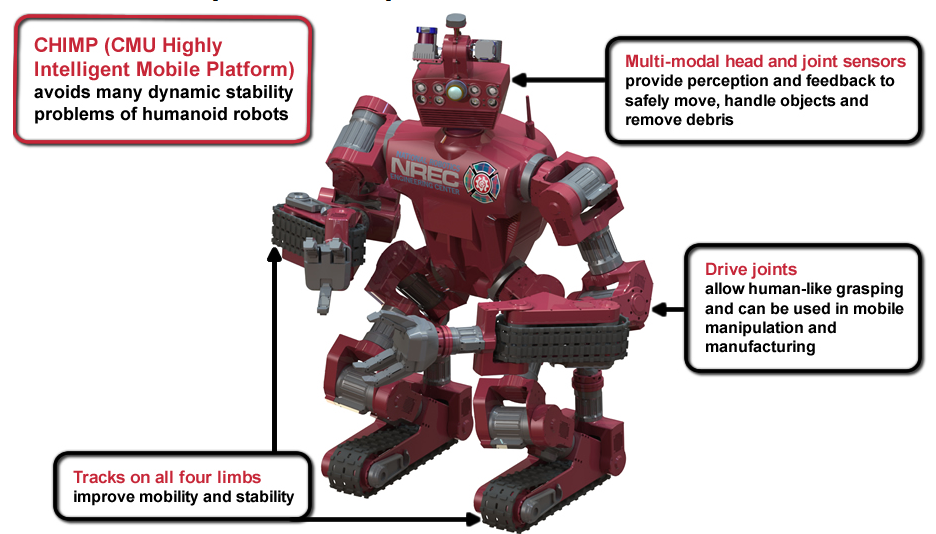 Warehousing and Logistics
Applications where we've seen automated equipment being used in large organizations can now be used with smaller organizations, with smarter and more accessible collaborative robots. Warehousing and logistics have been using AGV's for a number of years but traditionally require a large facility investment to allow these vehicles to operate. New navigation techniques enable AGVs to operate within a warehouse or factory without the need of reflectors or markers. In addition to new navigation techniques, a new emerging technology is developing by combining mobile robots with articulated robots. This intersection presents an exciting new opportunity to have robots handle movement around a facility as well as select and pack products all while working in a human environment.
Surgical Applications
Reducing risk, procedure time and recovery time continues to be a focus for Surgical Robotics. Improving on the technologies of conventional laparoscopy and arthroscopy, surgical robots are providing surgeons with greater visibility, dexterity, precision and comfort while safely working next to the OR staff and on the patient. Today's surgical robots decrease operative trauma, improve patient outcomes and shorten lengths of stay in prostate, cardiac, gynecological and many other types of surgery. The growth potential for surgical robotics is unlimited as new surgical procedures are developed, as the global demand increases and as collaborative technologies continue to innovate. Read more about Surgical Robotics here.
Remote Security and Monitoring
Finally, collaborative robots are providing an exciting opportunity in remote security and monitoring. This application combines a variety of technologies including mobile robotics, sensing and video monitoring. Opportunities for these robots include country and state borders and other large, sprawling areas such as agricultural farms, solar farms, warehouses, airport parking lots or military bases.
As the subset of collaborative robots that are deployed without external safety barriers grows, the population of applications that benefit grows. Today we see clear benefits in industrial settings, complex/dangerous applications, warehousing and logistics as well as security and monitoring.