Kollmorgen Presenting Advanced Motion Control Solutions for Robotics at 2019 Robotics Summit
-
North America
|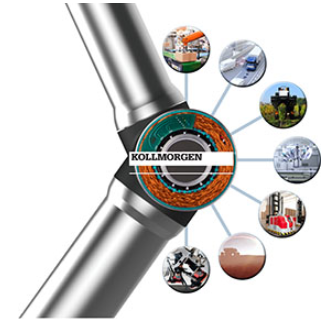 RADFORD, VA – May 22, 2019 – Kollmorgen will exhibit their newest motion-centric automation solutions for designers and manufacturers of commercial robotics and intelligent systems to the 2019 Robotics Summit & Showcase, June 5-6, in Boston, MA. Visitors are invited to Booth 202 to see and participate in a variety of product exhibits and exciting live demos.
Demos and other exhibits have been designed to show how Kollmorgen's next-generation technology helps robot designers and manufacturers increase efficiency, uptime, throughput, and machine life. Exhibits will include:
The AKM2G Servo Motor delivers the best power and torque density on the market, offering OEMs a way to increase performance and speed while cutting power consumption and costs. Highly configurable, with six frame sizes with up to five stack lengths, and a variety of selectable options (such as feedback, mounting, and performance capabilities), the AKM2G can easily be dropped into existing designs.
Robotic Gearmotor Demo: Discover how Kollmorgen's award-winning frameless motor solutions integrate seamlessly with strain wave gears, feedback devices, and servo drives to form a lightweight and compact robotic joint solution. Kollmorgen's standard and custom frameless motor solutions enable smaller, lighter, and faster robots.
AGVs and Mobile Robots: Show attendees can learn about Kollmorgen's flexible, scalable vehicle control solutions for material handling for smart factories and warehouses with AGVs and mobile robots.
Panel Discussion: Motion Control and Robotics Opportunities, June 5th, 3:00 – 3:45 pm
As part of the Technology, Tools, and Platforms track, Kollmorgen's Tom Wood, Frameless/Robotics Product Specialist, will participate in a panel discussion of how support for robotic motion control has improved with technologies that allow for new capabilities, applications, and entry into new markets.
ABOUT KOLLMORGEN
Since its founding in 1916, Kollmorgen's innovative solutions have brought big ideas to life, kept the world safer, and improved peoples' lives. Today, its world-class knowledge of motion systems and components, industry-leading quality, and deep expertise in linking and integrating standard and custom products continually delivers breakthrough motion solutions that are unmatched in performance, reliability, and ease-of-use. This gives machine builders around the world an irrefutable marketplace advantage and provides their customers with ultimate peace-of-mind.