Discover vehicle automation powered by 5G at MWC Barcelona 2023
|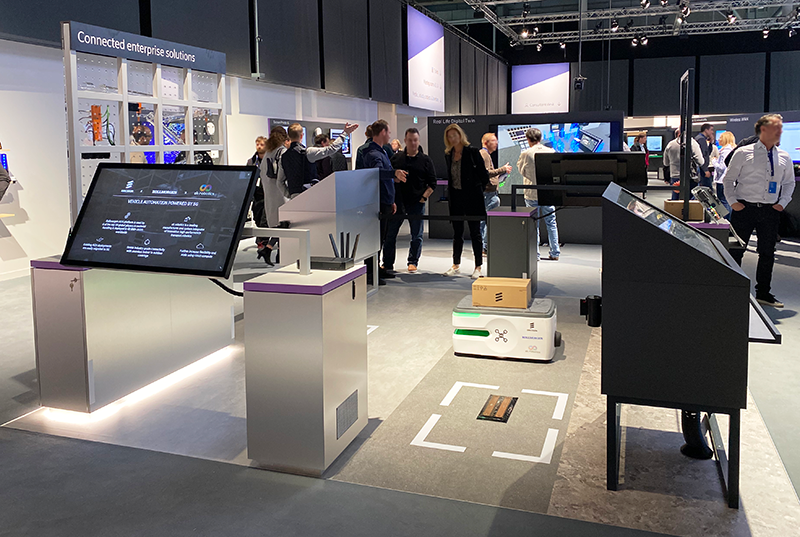 Join Kollmorgen and ek robotics in conjunction with Ericsson at Mobile World Congress (MWC) Barcelona 2023 on February 27 - March 2, one of the largest events for the connectivity ecosystem, where technology, community and commerce converge. Together they will demonstrate how you can benefit from automated guided vehicle (AGV) and mobile robot applications powered by 5G at Ericsson's booth in Hall 2 Stand 2O60.
Demo story
Kollmorgen – a technology leader in navigation and fleet control of AGVs and Mobile Robots – and Ericsson – one of the leading providers of Information and Communication Technology (ICT) –– have previously conducted tests proving that Kollmorgen's automation platform runs as stable on Ericsson Private 5G as on Wi-Fi, with a seamless 5G antenna handover. Together with ek robotics – a longtime Kollmorgen partner and leading manufacturer and system integrator of innovative robotics for production and warehouse logistics – they will showcase an industrial AGV running on Ericsson Private 5G at MWC Barcelona 2023.
The demo will show some of the benefits of bringing 5G to the AGV, such as moving AGV logic to the cloud, and augmenting the AGV with additional senses and sensors, allowing it to see around corners and react to obstructions and potential safety risks ahead of time.
AGVs and mobile robots handle logistic flows autonomously, improving the efficiency and flexibility in manufacturing and warehousing without heavy investments. To create large scale AGV systems in line with Industry 4.0 requires stable and future-proof connectivity. 5G networks bring new possibilities to the world of material handling as they can support a larger number of AGVs and connected devices and help manufacturers expand their operations.
Read more about the collaboration and benefits of vehicle automation powered by 5G on this site.
Booth: Ericsson's booth can be found in Hall 2 Stand 2O60.
Tickets: For tickets and more information about MWC Barcelona 2023, please visit: https://www.mwcbarcelona.com/.
About Kollmorgen Automation
Kollmorgen's NDC Solutions is an industry leading platform utilized by vehicle builders to create driverless logistics automation solutions. The platform consists of both software to route vehicles efficiently, and hardware for navigation and control. With Kollmorgen NDC8 you may automate virtually any type of vehicle or robot and integrate it to any type of material handling application, in any industry, worldwide. Learn more at: www.kollmorgen.com/agv.
About Ericsson
Ericsson enables communications service providers and enterprises to capture the full value of connectivity. The company's portfolio spans the following business areas: Networks, Cloud Software and Services, Enterprise Wireless Solutions, Global Communications Platform, and Technologies and New Businesses. It is designed to help our customers go digital, increase efficiency and find new revenue streams. Ericsson's innovation investments have delivered the benefits of mobility and mobile broadband to billions of people globally. Ericsson stock is listed on Nasdaq Stockholm and on Nasdaq New York. Learn more at: www.ericsson.com.
About ek Robotics
ek robotics is the world's leading manufacturer and system integrator of innovative high-tech transport robotics for production and warehouse logistics. At six locations (Rosengarten (Germany, headquarters), Reutlingen (Germany), Milan (Italy), Prague (Czech Republic), Budapest (Hungary) and Buckingham (UK)), the transport robotics specialist with more than 300 employees creates intelligent, networked and flexible transport solutions for the fully automated, in-plant material flow of its global customers. With 60 years of experience in design, development, manufacturing, integration, turnkey delivery and support throughout the entire lifecycle of automated guided vehicles (AGVs), ek robotics is among the technical elite in this fast-growing industry of the future. Learn more at: www.ek-robotics.com.