Kollmorgen's North America locations include two design & manufacturing offices.  One is located in Santa Barbara, California where we design software and electronics. Our second office is located in Radford, Virginia near Roanoke, where we design and manufacture motors. 
Both offices feature fabulous vistas and easy access to prime universities (University of California SB and Virginia Tech), activities for families, and miles of parks and national forests. We are always looking for talented machinist, engineers, software developers and office staff. 
Meet our People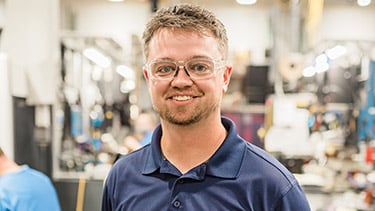 I started with Kollmorgen at the Rock Road, Radford, VA USA manufacturing plant as a Machinist after studying Machine Technology at a local university. I instantly felt right at home in the work environment at Kollmorgen. This was my first Machinist position, so I was nervous about how I was going to perform applying to real life what I'd learned in school. Everyone was so willing to help and share their years of experience. I was promoted to 2nd Shift Lead Machinist at our Kollmorgen Rock Road plant and then transitioned into a first shift Machinist role at Kollmorgen Main Street in Radford, VA USA.
I spent 5 years at Rock Road and, although it was a big step relocating to another Kollmorgen plant, the culture of Kollmorgen encourages growth and I was determined to continue to learn. I truly enjoyed working at Main Street and Rock Road, but after almost 9 years of moving around in Machining positions I was still wanting to grow within the company. I am a true believer in "hard work pays off". I accepted a Manufacturing Engineering Tech Role back at my home base at Rock Road. I've been in this role for one year and I couldn't be happier with my decision. After 10 years at Kollmorgen, spending almost equal time at two plants, I can say with confidence I am looking forward to another 10 years with his amazing company!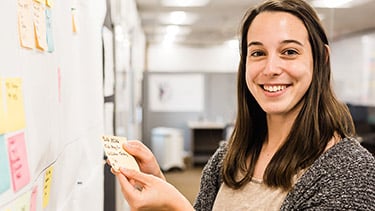 I chose to study engineering because I didn't want to limit myself to one specific industry, product, or career path. I wanted to have the opportunity to make a real impact in a variety of markets, and that's exactly what we do here at Kollmorgen! We manufacture products for a wide range of applications, from life-saving medical equipment to industrial automation and robotics, so the opportunities for growth and learning are endless!
My first and current role with the company has been as a quality engineer for a brand-new product line we're developing. This job has been an amazing learning opportunity as my role within the team continuously evolves as we transition from the design and prototyping stages to manufacturing on a highly automated assembly line! Problem-solving is at the core of both my day-to-day tasks and my long-term projects, so I'm always on my toes. Every day I work with our associates on the production line to help them remove unnecessary challenges from their jobs and produce parts with fewer defects by using tools and principals such as automation, standard work, and lean manufacturing. This job is so fulfilling to me because I get to work on a diverse team and see data-supported improvements in quality from the changes we implement.
Kollmorgen provides me opportunities for growth every day when I come to work, but the company is also supporting me as I continue my education. They are providing me with financial support through the tuition assistance program as well as the flexibility to take classes toward a master's degree in industrial systems engineering. I'm very grateful to work for a company that finds so many ways to invest in the continuous improvement of its employees.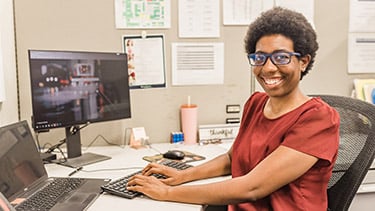 I love problem solving: no problem is too big or too small. If there is a problem, I will find the solution. Whether in my personal life or work life, problem solving is what I love to do and I never tire of it! After solving a problem, I love to apply knowledge of the things I have learned and use it to solve problems that may show up in the future. What I love most about problem solving is that there are so many ways to look at a problem and digest it. There is never just one right way to go about solving something because everyone has a different viewpoint. I enjoy picking problems apart and putting them back together. I love to see how people analyze problems and solve them.
In my role as Systems Application Engineer, this skill is very helpful. There are always new problems to solve daily and customers needing solutions. This role is very rewarding; not only in helping customers but learning new things about our products and how people use them. There are many different systems in the marketplace and systems differ from customer to customer which can present a wide array of problems and solutions. There is never a dull moment in this line of work!