blog
|
Evolution of Kollmorgen - Part 2
|
2
minute read
Prior to leaving Europe, Fredrick became the proud father of a baby boy – Ernest Otto. This would be the first of three children, the other girls (Hildegard and Dorthea). From various records, I can only piece together a few bits of information regarding the early 1900's. It appears Frederick's wife (Agnes Hunt), an English woman, whom he married in Italy, traveled back and forth to the United States from England, bringing the children over at certain times. Otto was born in 1901 and came to the US in 1907, two years after Fredrick immigrated. Hildegard, was born in 1903 and followed to the US in 1910. Finally, Otto's youngest sister, Dorthea, was born in 1914 in Italy –right in the midst of World War I.
It's a bit confusing, but it appears Agnes Hunt was caring for the children in Europe and brought them over to the US as Fredrick could support them. She finally fled to Italy and than the US to escape the turmoil in Europe. Otto grew up in the New York area, and eventually went to school near Philadelphia. Fredrick's business sustained good growth through the war, but soon after the war ended, Kollmorgen needed to find other markets to consider. He engaged with filmmakers and began turning his expertise of optics to the emerging entertainment market.
The roaring twenties kept Kollmorgen's business alive as a rapidly growing number of movie theaters needed his quality projection lenses. Projection lenses weren't the only thing keeping the business up and running. Kollmorgen again used his optical expertise to manufacture rifle scopes (you can still find these fine instruments today on eBay). Even during the depression, Kollmorgen took rejected lenses and turned them into ash trays to keep his machines running and craftsmen employed.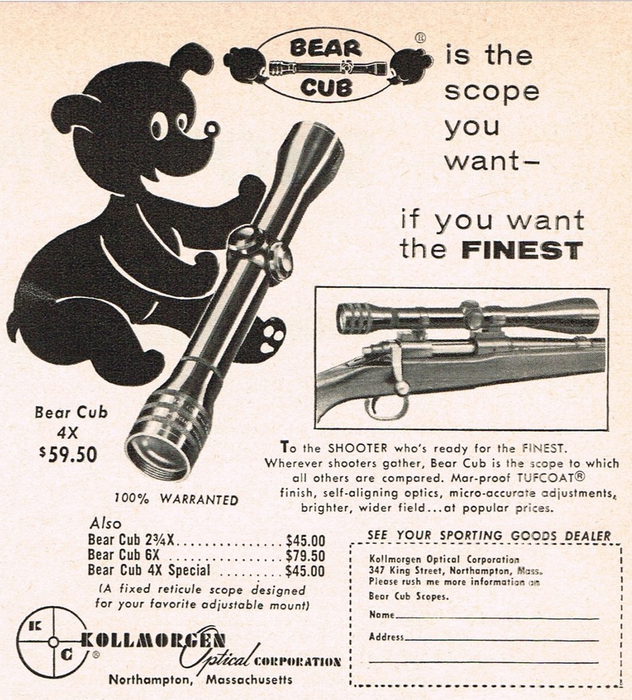 As World War II approached, the need for optical devices ramped up again – drift meters, bombsights, sophisticated navigation instruments, as well as more advanced submarine periscopes. The first optical instruments using anti-reflective coatings where made by Kollmorgen Optical Company. In addition, the first contact lenses made in the US were by Fredrick's company. The company grew rapidly from just over 60 employees to more than 600 in a span of just 5 years. Optical systems for the Norden bomb-sight was designed by Kollmorgen in collaboration with its inventor. Kollmorgen also designed and built remote viewing devices for the "Manhattan Project."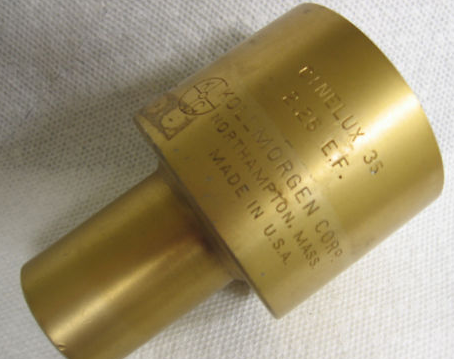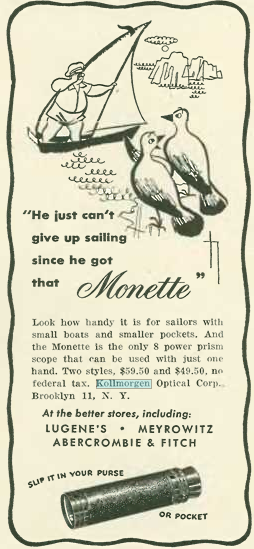 Cinelux 35 Projector lens Ad in New Yorker Magazine, 1947
The war is over, the business is thriving, and now little Otto, who we introduced at the beginning of this post, is 45 years old, grown into an accomplished business man, and now takes over as President of the company. A few years later the business moves from Brooklyn, NY to North Hampton, MA.
Fredrick Kollmorgen, along with his son Otto, survived WWI, the great depression, and WWII by focusing (pun intended) on their core talents in optics. They shifted with the markets and came through the turmoil as a strong business. That sense of resilience continues at Kollmorgen – we're in it for the long run!