blog
|
4 Tips for Considering Your Servo Motors IP Rating in Your Application
|
2
minute read
What should you consider when factoring IP Rating into your specification and what other environmental factors should be considered when specifying motion products?
As a manufacturer of motion control products for a variety of markets, Kollmorgen Application and Sales engineers get involved in specifying products into all kinds of environments. Often these environments can be wet and thus an IP (International Protection) rating needs to be considered as a part of the specification of our product.
So what is an IP rating anyway? An IP, or International Protection, rating is used to provide manufacturers like Kollmorgen with a precise test that can be used to rate a product's ability to survive a particular environment. The IP Code is specified using a series of two numbers and optionally a letter as defined by the International Electrotechnical Commission (IEC). An example of this would be an IP67 rating. The first number in this rating defines the items Solid Particle Protection. The number "6" indicates that an IP67 product is "Dust tight". Here is the table of options for this digit.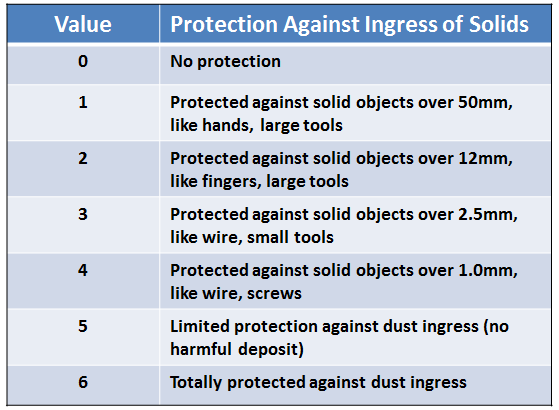 The second number in this rating defines the items Liquid Ingress Protection. The number "7" indicates that an IP67 product is protected "Immersion of up to 1 meter for a duration of 30 minutes". Here is a table of options for this digit.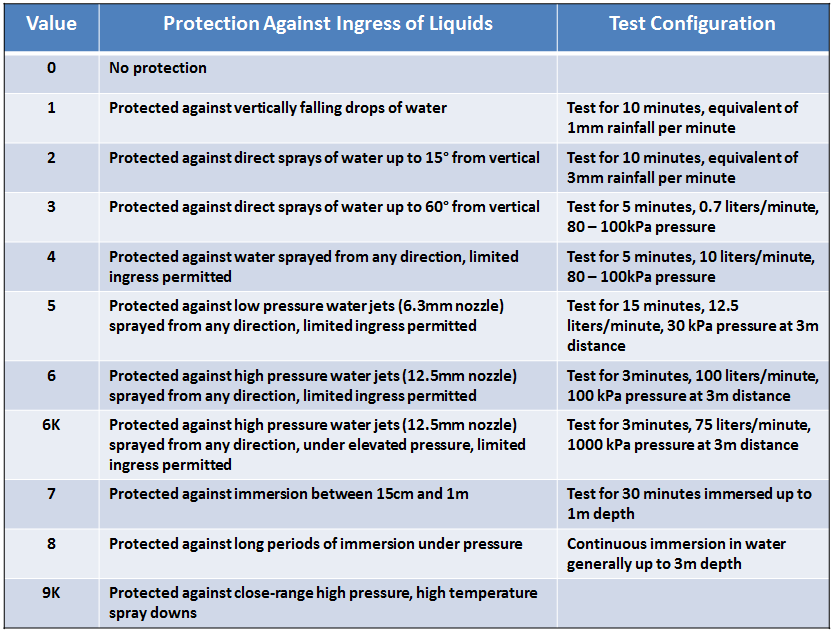 As you can see from the tables above, there are quite a few variations of these digits that could be used to define how a product is protected against solid particles and liquid. The most commonly used variations in the motor industry are IP40, IP65, IP66, IP67, IP68 and IP69K.
The difficulty is deciding what rating is the correct rating to use with an application. Since it is fairly easy to achieve the highest solid particle rating of 6, we can ignore the first digit for the purpose of this discussion. The second digit is where I see the most confusion. So here are a few tips to consider for your application:
The IP65 rating defines that the product is protected against water jets. An IP65 motor can be used if there is going to be occasional splashing of the motor in the application, but it is not intended for washdown applications.
An IP67 motor is protected against more powerful waterjets and can be used in applications where washdown is required. If you are going to use an IP67 motor in a washdown application, consider using one that has an epoxy paint and uses stainless steel components so that it is protected against corrosion.
An IP69K motor is the preferred solution for a tough washdown environment, because this rating means that the motor is protected against waterjets at pressure of up to 1450 PSI, these motors are mostly made with stainless steel housings. Paint just won't hold up to these conditions. The K also dictates that the temperature of the water used can be up to 80 degrees C.
If your application is going to require a tough washdown regimen, it is important to consider what chemical solutions are going to be used. The IP code does not factor in the required life of the product under these conditions. I often see that products used in washdown applications don't last long because the product corrodes due to the exposure to water and other chemicals. A spray painted motor that is IP67 is not going to last long under frequent exposure to water and certainly should not be used in a caustic washdown application. These motors are mostly made from Aluminum and Steel and will corrode quickly in wet environments. We can take that same motor add an Epoxy paint and change out the steel components for stainless steel. This results in a motor that will fair ok in a caustic washdown environment. The downside to this solution is that if the paint chips off, the aluminum underneath will corrode. The most robust solution in this environment is a motor with all stainless steel construction. It also important to consider how the non-metallic components like O-rings, shaft seals, and cabling react to these same chemicals.
Consider not only the operating environment for the electromechanical equipment in your application, but other environmental factors like what kind of cleaning and sanitizing the machine is subject to. Careful consideration of these environmental considerations will help keep your machine up and running, meeting your production requirements for years to come.
Tell us about some environmental nightmares you've encountered and how you may have overcome them.