success_story | minute read
3D Cutting for large formats
Kollmorgen frameless direct drive linear motors for metal cutting

IC and KBM Series for greater performance, accuracy and compactness in a single machine
There are few companies around the world capable of building machines that can cut large formats, for example silo assemblies up to 12 meters long and 3 meters wide, as well as chamfer edges prior to welding. Cutlite Penta is one such company.
Since 1992, the Florentine company, based in Calenzano, has been one of Italy's leading companies in the design, manufacture, and distribution of laser machines for the manufacturing industry. With manufacturing, commercial, and servicing sites in China, The Unites States and Brazil, Cutlite Penta has become a top-ranking company on a global scale.
Quality, technology, flexibility and customer focus combined to give life to products that are synonymous with Italian excellence.
The machines produced by Cutlite Penta are designed to cut a variety of materials, including metal, wood, plastic, ceramic, glass, methacrylate, and composite materials.
Laser cutting is used successfully in the carpentry industry where advanced technology, accuracy, and speed are necessary. For this reason, the technology is used in environments where accuracy and precision are essential, such as in the production of industrial machine components where final assembly must be perfect.
Fiber Plus
The laser systems in the Fiber Plus family for metal cutting are equipped with fiber laser sources with a power levels up to 15Kw capable of undertaking heavier work. They combine high performance, structural rigidity, and efficiency.
The linear motors by Kollmorgen that move the machine's two axes guarantee the high dynamic performance (≤2.5G) of the Fiber Plus series, allowing high levels of productivity, even on extremely complex geometries. Fiber Plus by Cutlite Penta matches the efficiency and effectiveness of systems using fiber laser technology, with other noticeable advantages: very easy installation and maintenance, space saving, high reliability, and high performance resulting from the perfect integration of each component.
The FIBER PLUS machine is designed for structural operations, for large-format 3D metal cutting, such as metal tanks up to 13 meters long and 3 meters in diameter, with absolute precision. There are few companies in the world capable of undertaking such work, and similarly few capable of producing machinery for performing such specific cuts, such as chamfering, or bevel cutting, with power levels of between 2 and 15Kw. We are talking about twice as much power as normal, which is necessary for cutting metals that are particularly thick and resistant, and which require particular shielding within the machine for obvious safety reasons: sheet housing is used to protect the machine on all sides. Given the huge sizes, and therefore the significant weight, the LM machine is designed to be tested, disassembled, transported, and reassembled and realigned at the end client's site. Cutlite Penta takes responsibility for this.
Key Features
Fiber cutting head designed in-house
Fast Mark Group: galvanometer scan head + independent fiber laser
Fast Mark Group mounted directly onto the deck near to the laser head, ensuring high moving speeds and precision in the marking process
Structure with excellent mechanical characteristics
Low investment and operating costs
Ability to choose different configurations and tailor the system to individual production requirements
High performance, maximum effectiveness, accuracy, and precision have been optimized- thanks to the use of KOLLMORGEN direct drive linear motors, the water-cooled IC Series and the magnets in the MC Series. This solution has enabled Cutlite Penta to improve performance in terms of thrust and the performance/size ratio compared to the competition.
A direct drive linear motor is in fact a rotary motor rolled out flat and coupled directly to the load being driven by the motor. With no mechanical transmission components, the design offers an exceptional level of performance, very high rigidity, dynamic speeds, and very high accelerations, extreme positioning accuracy, compact dimensions, low cogging, zero maintenance and quiet operation, as well has a high level of precision.

Simone Zagli, Italy Area Manager for metals, Cutlite Penta
"The collaboration between our two companies has already lasted for over 10 years and every year it gets stronger," explains Simone Zagli, Italy Area Manager for metals at Cutlite Penta. "The volume of work required is constantly increasing and we use Kollmorgen motors in any system that contains linear motors, which fully meet our needs. Our partnership is also essential to developing our new projects; in fact, in addition to classic linear motors, we have started using torque motors for rotary axes and five-axis systems."
Benefits of IC linear motors
Zero maintenance, greater accuracy and higher bandwidth
Smoother velocity and reduced audible noise
Power transmission with no mechanical components such as couplings, toothed belts, etc.
No gears, screws or lubrication
Improved reliability during use
Wide range of motor sizes with varying force ranges for use in any linear actuator
Increased performance of the entire system
Flat, compact drive solution
Simple, more compact machine design
Higher bandwidth and faster response compared to ball screw and rack and pinion actuators
Reduced noise, fewer components and lower overall operating costs
KBM Frameless Motors, modern direct drive technology
KBM™ Series direct drive motors have been used on the rotating laser Penta Fiber Head in order to reduce kinematics, increase the accuracy of movement and maximize its compact size. The KBM™ Series has been developed to be integrated directly into the machine, using its own bearings to support the rotor. There is a wide range of standard motors (14 sizes with varying lengths); depending on the need, additional configurations are available and changes to the shared design can be made quickly and cost-effectively.
Thanks to the special cutting Penta Fiber Head, excellent performance can be achieved in terms of speed, efficiency, and sturdiness. From cutting sheet metal to creating much smaller decorative items, it is possible to design machines suited to different needs.
KBM Frameless Motors characteristics
Fully encapsulated stator windings
PTC thermistor overload protection
Rare-earth neodymium iron boron magnets
Fail-safe bands over rotor magnets
RoHS compliant
UL and CE certification
Optimizations include rotor hub dimensions, rotor length, diameter, mounting features, windings, insulation, connection type, and much more
Optional latching digital Hall effect sensors are pre-aligned and factory-installed
Benefits of KBM Frameless Motors
Direct load connection eliminates the need to maintain gearboxes, belts or pulleys
Zero backlash and compliance provides a more responsive system
Eliminated coupling devices reduces overall machine size
Embedded motor enables a compact machine design, helps protect intellectual property
Huge selection of standard motors and extensive customization options
Conclusion
"Satisfaction and mutual trust, the quality of the components and the end product mean the future is bright for the partnership between our two companies, which already has a decades-long history behind it," emphasizes Fabio Massari, Senior Key Account Manager at Kollmorgen Italia, who has supported the project throughout each phase. "The know-how applied during the consultation and design stages pushes us to explore new roads together, which are increasing the spectrum of solutions adopted in order to propose increasingly innovative machines to end customers."
INFORMATION ABOUT KOLLMORGEN
Since the company was established in 1916, Kollmorgen's innovative solutions have given life to big ideas and improved people's safety around the world. Kollmorgen is continuously developing innovative solutions that are unrivaled in terms of performance, reliability and ease of use. Crucial in this regard is precious know-how in the field of systems and drive components, industry-leading quality, and substantial experience in combining and integrating standard and custom products. We guarantee an undeniable competitive advantage for machine manufactures around the world, and maximum safety for our customers. For more information, visit the website: www.kollmorgen.com
© KOLLMORGEN. Use for editorial purposes is free.
Download as PDF
"Every machine is the very heart of an organization, is the expertise of those who daily commit to achieving a new objective. Every machine is all our passion and we intend to share it with you." - Delio Patrizio Mugnaioni, CEO of Cutlite Penta
Laser Penta Fiber Head by Cutlite Penta and KOLLMORGEN IC Direct Drive Linear Motors
Simone Zagli, Italy Area Manager for metals, Cutlite Penta
KOLLMORGEN IC Direct Drive Linear Motors
Close-up of the laser Penta Fiber Head by Cutlite Penta and KOLLMORGEN KBM Series Frameless Motors.
KOLLMORGEN KBM Frameless Motors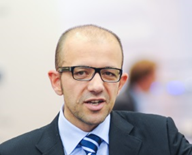 Authors: Fabio Massari, Senior Key Account Manager, KOLLMORGEN Italia & Elisabetta Redaelli, Marketing Communication, KOLLMORGEN Italia