Join Kollmorgen at Digital X 2022
-
Europe
|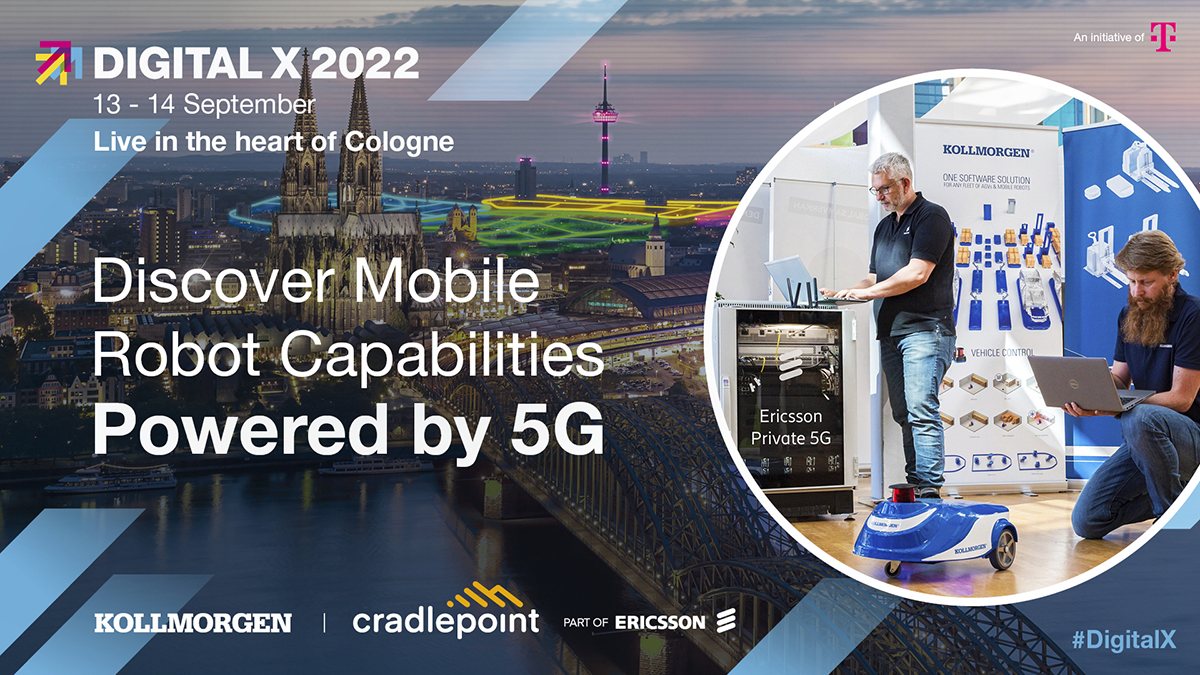 Join us at Digital X 2022, the world exhibition of digitalization, in the heart of Cologne 13-14 September. Together with Cradlepoint (part of Ericsson) we will demonstrate that our world-leading control systems for AGVs and mobile robots, including fleet management system, software tools for commissioning and navigation capabilities, can run on a 5G network, for a stable and future proof intralogistics solution in line with Industry 4.0.
Read more about Kollmorgen's and Ericsson's 5G testing: kollmorgen.com/en-us/newsroom/press-releases/kollmorgen-performs-5g-tests-ericsson-explore-mobile-robot-capabilities/
Booth: We can be found in the Interactive Quarter.
Tickets: For tickets and more information about Digital X, please visit: www.digital-x.eu/en.
About Cradlepoint
Cradlepoint is a Boise, Idaho, company with a mission of enabling customers to Connect Beyond the limits of wired networks. Cradlepoint unlock the transformative power of today's LTE and 5G cellular networks to provide an agile, reliable, and pervasive Wireless WAN edge. For more information, visit: www.cradlepoint.com.
About Ericsson
Ericsson enables communications service providers to capture the full value of connectivity. The company's portfolio spans Networks, Digital Services, Managed Services, and Emerging Business and is designed to help customers go digital, increase efficiency and find new revenue streams. Ericsson's investments in innovation have delivered the benefits of telephony and mobile broadband to billions of people around the world. The Ericsson stock is listed on Nasdaq Stockholm and on Nasdaq New York. For more information, visit: www.ericsson.com.
About Kollmorgen NDC Solutions
Kollmorgen NDC is the industry leading platform utilized by vehicle builders such as Toyota Material Handling Europe, Jungheinrich AG, Mitsubishi Logisnext Europe Oy (Rocla) to create driverless logistics automation solutions. With Kollmorgen NDC you may automate virtually any type of vehicle or robot and integrate it to any type of material handling application, in any industry, worldwide. For more information, visit: www.kollmorgen.com/agv.