press_release
|
Kollmorgen Appoints New EMEA VP/GM
-
Europe
|
minute read
Nova Milanese, 7 June 2019 – Kollmorgen announced today that Alberto Favalessa, formerly Managing Director for Italy and Switzerland, has been selected as Kollmorgen's new VP/GM of EMEA operations. His appointment is effective immediately.
Favalessa has been with Kollmorgen's EMEA sales operations since 2000 in positions of increasing responsibility. As Managing Director of Italy and Switzerland, Favalessa has successfully built Kollmorgen's motion control business in key industrial automation and automated guided vehicle segments. His approach to designing integrated motion solutions has made him a valued partner to key customers. His team-based approach to problem solving and continuous improvement has made him an equally trusted and respected leader within the company.
"Managing the EMEA & India regions for the leader in motion control is certainly a source of pride for me," says Favalessa. "There are few companies in the world that can boast a history of over a century of innovation and this legacy gives me great motivation. I thank the company for the trust given to me. The technologies that Kollmorgen has developed for servo systems and for automated guided vehicles continue to achieve increasingly high standards for performance and reliability. These solutions provide the foundation for conversations with customers about innovation, service, and results. I look forward to driving the company's continued advancements in all of these areas."
Alberto Favalessa succeeds Markus Johansson, who leaves the Kollmorgen team well-positioned to accelerate its current positive momentum well into the future. "I can think of no one better to lead our EMEA team," says Kollmorgen President Dan St. Martin. "Over his 20-year tenure with our company, Alberto has demonstrated a passion for building strong customer relationships and solutions tailored to each customer's specific needs. Alberto has proven his ability to not only achieve business results, but also to inspire and develop our employees. We rely on his leadership and on his deep knowledge of the business and are confident he'll be successful in this latest assignment."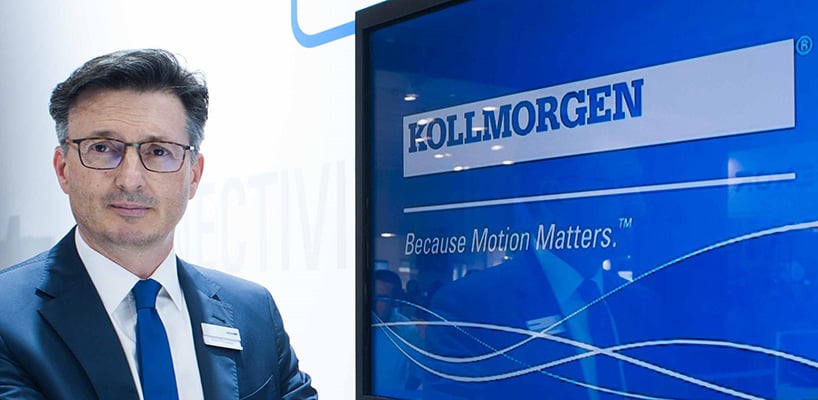 Alberto Favalessa, new EMEA VP/GM for Kollmorgen
ABOUT KOLLMORGEN
Since its founding in 1916, Kollmorgen's innovative solutions have brought big ideas to life, kept the world safer, and improved peoples' lives. Today, its world-class knowledge of motion systems and components, industry-leading quality, and deep expertise in linking and integrating standard and custom products continually delivers breakthrough solutions that are unmatched in performance, reliability, and ease-of-use. This gives machine builders around the world an irrefutable marketplace advantage and provides their customers with ultimate peace-of-mind. For further information please contact [email protected] or visit our website www.kollmorgen.com
© KOLLMORGEN. Use for editorial purposes is free.