blog
|
Medicine in our Future - Medical Robots and other Technological Advances
|
2
minute read
On November 13, 2017 FDA approved a pill that can digitally track if a patient has taken their medication.  The pill is called "Abilify MyCite" and is used to make sure that patients with conditions such as schizophrenia have actually ingested their medication.  As news broke about this new tracking pill it rekindled both concern and excitement about technology in the field of medicine.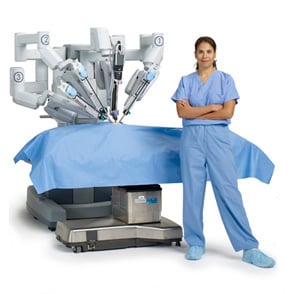 It takes time for us to accept major advancements in the field of medicine but this modern technology has a chance to become a part of normal life and medicine.  Think of medical robots – we are now used to Intuitive Surgical's da Vinci Surgical System as a staple of various surgical procedures such as cardiac, urologic, gynecologic, and transoral surgeries.  Research continues to work on robotics in the world of rehabilitation where robots are used to move limbs for those who have lost mobility or help them gain mobility back after injury.  Medical robots are also being used in a service capacity such as medicine dispensing and home care.  Advancements in Security Robots has also created a new specialty application for Disinfection Robots to prevent transmission of highly communicable diseases such as Ebola.
New technology in the field of medicine is always jarring but over time becomes accepted like Intuitive Surgical's da Vinci Robot.  I anticipate that we'll see more products like "Abilify MyCite" and, over time, may be a very normal part of life.