Kollmorgen offers a wide variety of linear actuators and motion systems. A linear actuator motion system consists of a rotary motor combined with a mechanical actuator that converts the rotary motion of the motor to linear motion. Kollmorgen offers electric cylinders where the load is attached to a rod that moves in and out. These linear actuators are perfect for replacing air and hydraulic cylinders. Kollmorgen also offers precision tables and rodless actuators that have carriages that move the load from point to point. Rodless actuators and Precision tables contain their own bearing systems and are great for applications where there is no additional bearing support. In addition, Kollmorgen's precision tables and rodless actuators can be configured into xy and xyz configurations to position loads in 2 or 3 dimensions.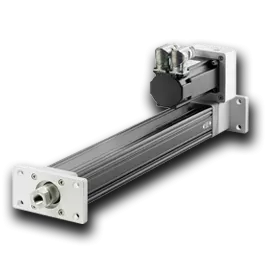 Electric cylinders from Kollmorgen offer strong thrust, high speed and exceptional positioning accuracy. Designed to provide a clean, efficient replacement for hydraulic actuators and pneumatic cylinders, these high-precision, closed-loop systems…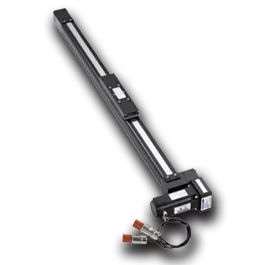 Instead of the moving rod of an electric cylinder, these rodless actuators feature a moving carriage supported by linear bearings within an extruded aluminum chassis. This design enables the rodless actuator to guide and support the load being…
Precision tables are best suited for applications where accuracy and repeatability are more important than axial thrust. They can also be used in applications that require substantial moment load support, and they're ideal building blocks for…
Learn how to engineer exceptional machines, robots and vehicles with the highest-performing, most reliable motors, drives, automation solutions and more.
Learn More