press_release
|
Regal Rexnord Features Concept Automated Guided Vehicle for Dynamic Conveying at Pittsburgh Robotics Discovery Day
|
minute read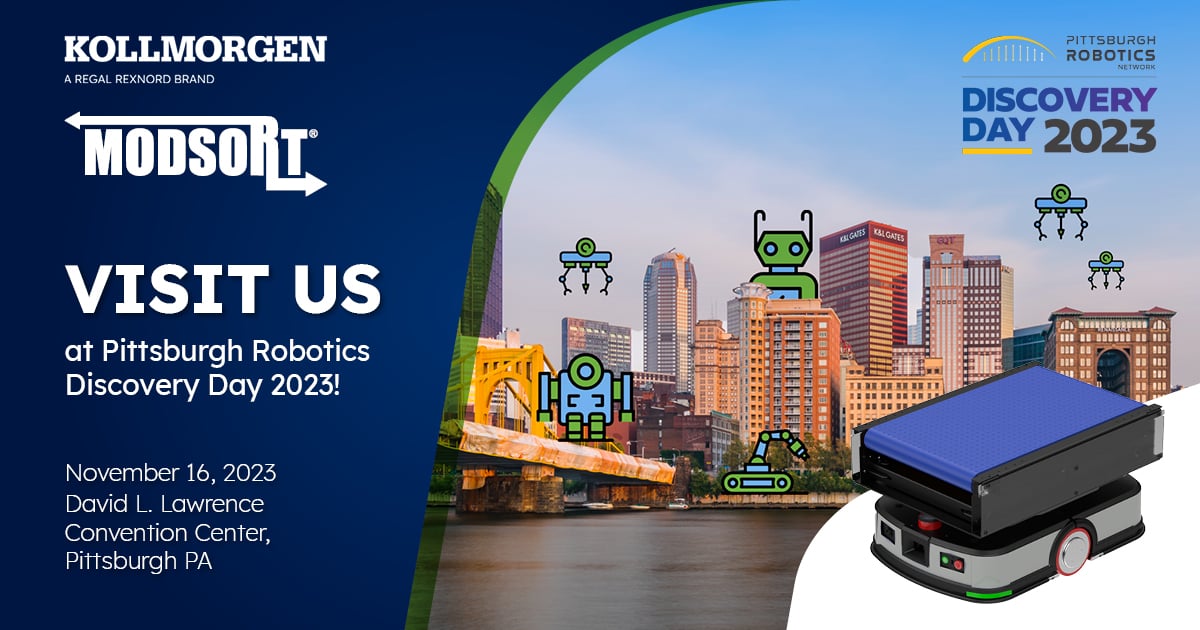 MILWAUKEE, WI — Nov 13th, 2023 – Regal Rexnord Corporation (NYSE: RRX), a global leader in the engineering and manufacturing of electric motors and controls, power generation products and power transmission components, will feature an Automated Guided Vehicle (AGV) concept controlled by Kollmorgen that is equipped with ModSort® technology at Pittsburgh Robotics Discovery Day, Booth 224. The show will take place at the David L. Lawrence Convention Center on November 16, 2023.
Visitors to the company's booth can view the operational concept AGV, which represents the integration of technologies from across Regal Rexnord's strategic brands. The concept AGV showcases the potential of combining Kollmorgen Corp's advanced control systems with the versatile ModSort® sorter and conveyor platform, illustrating Regal Rexnord's commitment to developing comprehensive intralogistics solutions.
"We're not just creating products; we're engineering the future of material handling and automation," said Zach Hegerty, Product Manager for Intralogistics at Regal Rexnord. "Our concept AGV is a testament to the power of collaboration and technological synergy, offering unprecedented flexibility and scalability for the logistics industry."
Regal Rexnord invites attendees to explore the realm of possibilities with its concept AGV at Pittsburgh Robotics Day. Participation in the event underscores the company's role as a facilitator of innovation, providing the building blocks for integrators to create tailored solutions that can revolutionize warehouse and distribution center operations, delivering safety, efficiency, and adaptability.
For a live demonstration and to learn more about the Kollmorgen controlled concept AGV and ModSort® technology, visit the Regal Rexnord booth at Pittsburgh Robotics Day. Visitors can find additional information about our products at ModSort.com and at Kollmorgen/AGV
About Kollmorgen
NDC Solutions by Kollmorgen, a Regal Rexnord brand, is an industry leading platform utilized by vehicle builders such as Toyota Material Handling Europe, Jungheinrich AG, Mitsubishi Logisnext Europe Oy (Rocla) to create driverless logistics automation solutions. The platform consists of both software to manage fleets and route vehicles efficiently, and hardware for navigation and control. With Kollmorgen NDC Solutions you may automate virtually any type of vehicle or mobile robot and integrate it into any type of material handling application, in any industry, worldwide. www.kollmorgen.com/agv or www.regalrexnord.com