Partner of the Year: Czech Republic
-
Europe
|
Raveo is Partner of the Year 2018: During the sps ipc drives in Nuremberg, KOLLMORGEN recognizes a proven drive expert for machine tools. Raveo Managing Director Aleš Zapletal was thrilled to receive the award at the traditional partner evening on the first day of the fair. The emerging Czech company has developed at a rapid pace. The two-man company founded in 2010 now has 20 employees, achieves a turnover of more than eight million euros and is continuing its success in the fast lane.
Manufacturers of machine tools, with typical processes such as turning, milling, grinding and CNC-supported laser cutting, value the expertise of Raveo in the Czech Republic when it comes to motion control and servo drive technology. "We are extremely successful at this," says Managing Director Aleš Zapletal. The KOLLMORGEN Europe Managing Director, Jan Treede, had just presented him with the "Partner of the Year 2018" certificate. The particular success of Raveo is mainly due to the fact that the company from Otrokovice is always in search of the perfect motion control for its customers.
"We deliver better solutions than many major brands because we listen carefully to what our customers want," Zapletal stressed. The name Raveo therefore continues to gain in importance in its home country. The partnership with KOLLMORGEN is shaping up perfectly. The drive technology offers maximum freedom of configuration and integration, and the two companies work hand in hand when it comes to devising individual solutions for customers.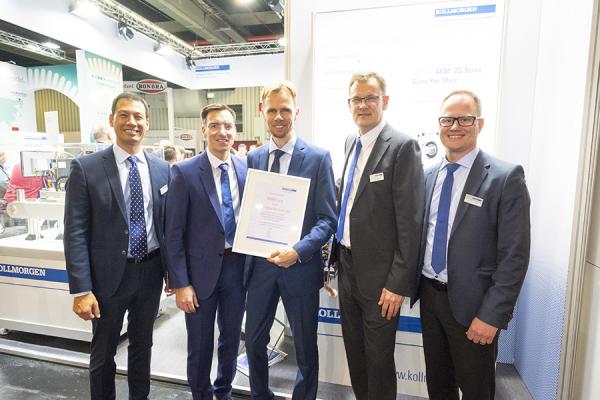 The Partner of the Year 2018 Award goes to the Czech Republic: Dan St. Martin, Alexander Hack, Aleš Zapletal, Jan Treede and Markus Johansson (from left) are delighted at sps ipc drives 2018. Photo: KOLLMORGEN/Sienk
ABOUT KOLLMORGEN
Since its founding in 1916, Kollmorgen's innovative solutions have brought big ideas to life, kept the world safer, and improved peoples' lives. Today, its world-class knowledge of motion systems and components, industry-leading quality, and deep expertise in linking and integrating standard and custom products continually delivers breakthrough solutions that are unmatched in performance, reliability, and ease-of-use. This gives machine builders around the world an irrefutable marketplace advantage and provides their customers with ultimate peace-of-mind. For further information please contact thi[email protected] or visit our website www.kollmorgen.com