blog
|
Get More for Your Money - Electric over Hydraulic in Oil and Gas
|
2
minute read
Hydraulic motors have long been entrenched in oil and gas applications because of their high power density. Today, electric motors are closing the gap, enabling many applications to use electric motors on retrofits and new system designs.
A key driver for the current trends towards increasing use of electric motors in oil and gas applications is the ability of electrically driven systems to substantially improve system reliability, reduce downtime, and the limit the possibility of a leaked fluid discharge into the environment. Designers of oil and gas equipment are looking for the smallest, lightest, simplest solution with the least impact on the environment. While the best solution will be different for every application, it's clear that the trend in the industry is favoring electric motors.
I have outlined a few application based strategies for the replacement of Hydraulic motor based motion systems with Electric motor based systems in a White Paper on the subject that can be found on our Kollmorgen website.
In this report, I detail some of the following:
Electric motor technology improvements that have allowed these systems to better compete with their Hydraulic brothers due to their improved power density.
A few different applications that may benefit from the change-over to Electric motion from Hydraulics. Specifically:

ROV Thrusters and Actuators
Subsea Production Equipment Valves and Control
Downhole Motors and Actuators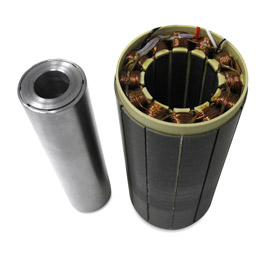 An example of Kollmorgen's HP/HT [High Pressure / High Temperature] motor technology
Take a moment now and download the White Paper and review the case for Electric Motor based control as a prime future means of Motion control in Oil & Gas industry applications.