Back to top
EC4 Series
The EC4 Series provides robust electric cylinders for heavy-duty thrust loads. Precision-rolled ball screw types yield quiet operation, low backlash and high accuracy, with a selection of motor-to-screw reduction types. Exceptionally durable bearing and drive housings are available with optional environmental features to resist moisture and contaminants. The special design of these cylinders minimizes the need for routine maintenance.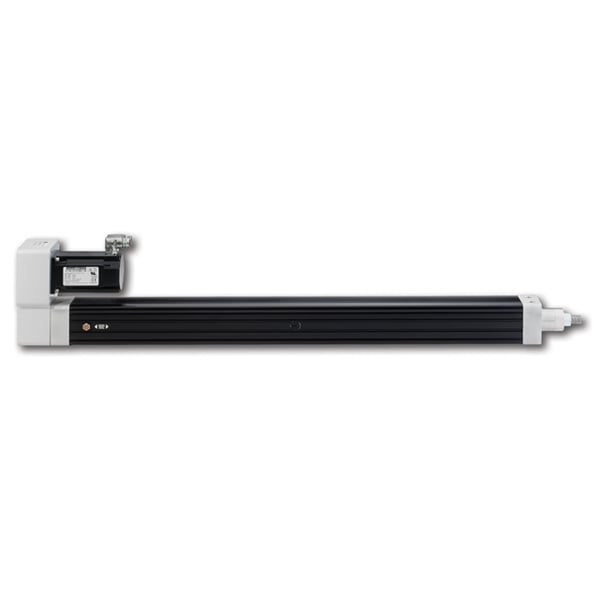 Features
Features
Motors available for use with the EC4 Series include:
KollmorgenT32T/V Series hybrid stepper motor (P7000 drive recommended)
Kollmorgen AKM42E, 42G, 52G, 52L and 52H Series AKM™ brushless servo motors
NEMA 34 and 42custom motor mounts
Features
Max stroke length: 1,500 mm (59 in)
Max thrust: 12,000 N (2,700 lbf)
Ball screw driven with 10, 25 mm leads
Stepper, brushless servo and custom motor options
Bearing/drive housing: 6063-T6 aluminum, anodized
Mounting plates: 6061-T6 aluminum, cast aluminum plate, anodized
Thrust bearings: angular contact, high thrust ball bearings
Belt/pulley: AT-5, polyurethane with steel tensile cords
Guide cylinder: 6063-T6 aluminum, hard-anodized
Thrust tube: 300 series stainless steel, 1/4 hard and ground
Ball screw and nut: heat-treated carbon steel alloy
Helical gearing: alloy steel, case-hardened
Options
Standard or custom lengths to 1 mm
Motor or screw brakes
Threaded, spherical or clevis rod ends
Environmental protective boot
Timing belt, helical gear and inline direct transmission
Flange, clevis, side and trunnion cylinder mounting types
Magnetic home and limit sensors
Linear potentiometer output
Specifications
Specifications
| MECHANICAL SPECIFICATIONS | Ball Screw Version |
| --- | --- |
| Max. Stroke Length, mm (in) | 1500 (59.06) |
| Screw Lead, mm | 25, 10 |
| Screw Diameter, mm | 25 |
| Unit Backlash, mm (in) | 0.30 (0.12) |
| Dimensional Standard | Metric ISO6431 Std. |
| Bore Size, mm | 80 |
| Motor Mount | parallel or inline |
| PERFORMANCE SPECIFICATIONS | Travel life standards of 25.4 km (1,000,000 in) |
| Max. Thrust Force, N (lbf) | 12,000 (2700) |
| Max. Velocity, m/s (in/s) | 1.33 (52.5) |
| Max. Rated Duty Cycle | 100 |
| Std. Operating Temp Range, °C (°F) | -30 to +70 (-22 to +158) |
| Environment | IP54 Std. IP65 Opt. |
Get Started
Get Started
Count on Kollmorgen support to help you design and build a successful machine and keep it reliably productive, anywhere in the world. Our co-engineering experts will work with you to tailor a perfect-fit solution for your motion requirements.
Talk to a motion expert
Media & Downloads
These 3D models are intended to guide your design activities and may be used as reference information. Be sure to consult a Kollmorgen expert to ensure you have the most current and accurate information for critical aspects of design work