press_release
|
Align Production Systems Partners with Kollmorgen to Advance AGV Technology
|
minute read
Align Production Systems, a leading innovator in material handling solutions, has announced a strategic partnership with Kollmorgen, known for their pioneering of vehicle control solutions. This collaboration is set to revolutionize the manufacturing AGV landscape, to provide efficiency, reliability, and versatility across various industries.
The collaboration of Align Production Systems' expertise in designing world-class automated guided vehicle systems with Kollmorgen's automation control platform NDC Solutions, will foster the next generation of AGV vehicle technology. The partnership aims to redefine the standards of how large and heavy products are moved within a manufacturer's facility.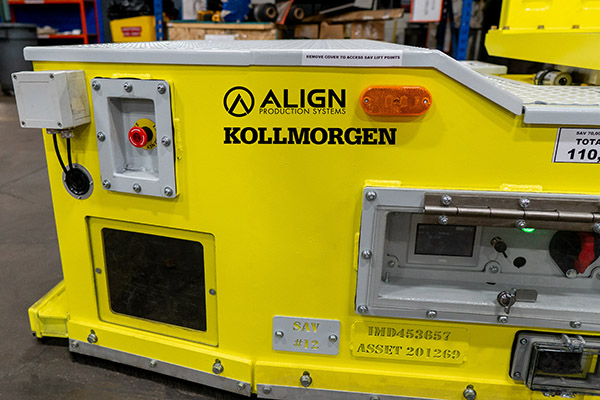 Jason Stoecker, CEO of Align Production Systems, expressed his excitement about the collaboration: "Our partnership with Kollmorgen marks a pivotal moment in the AGV technology for heavy industry. As a premier provider of heavy industrial solutions partnered with a pioneer in AGV technologies, APS will help lead heavy industry into the autonomous age."
This partnership holds promising prospects for industries looking to tap into the next level of automation. Both Align Production Systems and Kollmorgen are committed to pushing the boundaries of AGV vehicle technology to ensure the future of AGVs is beneficial to customers.
"We are happy to welcome Align Production Systems as a partner. We strongly believe that the APS go to market strategy, powered by Kollmorgen NDC Solutions will be strong force within automated flexible material handling" said Tobias Byfeldt, Vice President & General Manager Kollmorgen Automation.
About Kollmorgen
NDC Solutions by Kollmorgen Automation, a Regal Rexnord brand, is an industry leading platform utilized by vehicle builders to create driverless logistics automation solutions. The platform consists of both software to manage fleets and route vehicles efficiently, and hardware for navigation and control. With Kollmorgen NDC8 you may automate virtually any type of vehicle or mobile robot and integrate it into any type of material handling application, in any industry, worldwide. Learn more at: www.kollmorgen.com/agv or www.regalrexnord.com
About Align Production Systems
Align Production Systems is a leading innovator in industrial production solutions, committed to enhancing efficiency, safety, and productivity across all manufacturing industries.