blog
|
Something is Missing and Other Linear Actuator Nightmares
|
2
minute read
Many considerations go into specifying a linear rod type actuator… Will we use a servo or stepper motor? What are the mounting and rod end selections? Speeds and forces required for the application? What duty cycle and life requirement do we need? Often, a very critical consideration gets overlooked.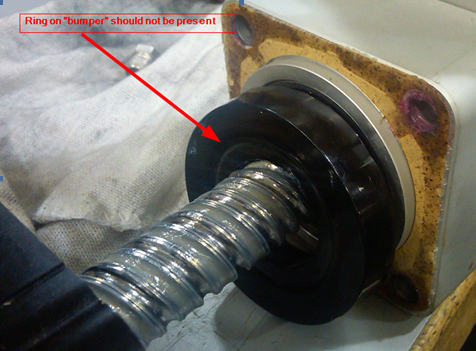 The image above shows a "ring" impression in the rubber bumper that shouldn't be there – what was missing in this situation?
A specification will often state the required stroke for the application. What is frequently seen is that units are damaged by not following a simple requirement stated in the Installation Manual. Best practices dictate the utilization of End of Travel (EOT) sensors used with actuators and drives. This is done to prevent the actuators from striking the mechanical stops at each end, and typically a manual will clearly show where these sensors should be placed on the device. Actuators do have built in "bumpers" to help absorb energy when the mechanical stops are struck, but they are not designed to provide unlimited protection against repeated strikes. Does your car have a bumper at each end? Does this mean your car is protected when a bumper strikes a fixed object? No! Like a car, protect your investment and incorporate EOT's with the actuator, and keep you actuator from crashing!
Remember, additional length must be added to the stroke for the physical room that EOT sensors occupy, but also the length needed for the motor to bring the actuator and load to a stop. This distance varies significantly by application, and should be considered as part of the decision on where to place the sensors.
An example may be that if eighteen (18) inches of travel are required for an application, an actuator with a stroke of twenty (20) inches is probably necessary.
Tell us about your horror stories when end of travels were not included in the design…