Back to top
How do you get maximum torque at full speed without specifying an oversized motor? How do you avoid excessive temperatures without derating? How do you get all the performance you need in a compact form factor that pairs with readily available gearing? Let's explore the answers using next-generation frameless motor technology delivered by the all new TBM2G. In this session, you'll learn:
• How to analyze performance data to ensure you're ready to bring a superior machine to market
• How to save research time by using a variety of online, self-serve resources
• How TBM2G motors perform in a real-world case study, providing insight for achieving your own success
About the Presenter(s)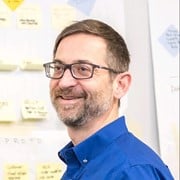 Gene Matthews, Senior Product Manager
Gene Matthews is a Senior Product Manager, located in Radford VA. He received his BS in electrical engineering from the University of Illinois in 1996 and has been with Kollmorgen since 1999. Gene has worked in several capacities within Kollmorgen, including technical support and applications engineering, providing him with a full background in all things motion.