Back to top
It takes complex motion to form, fill and seal a simple package. Webs, augers, sealing jaws and shears all need to move in perfect coordination and at the highest practical speed, since fractions of a millisecond in motion control systems can add up to a big difference in total throughput. Machines need to be easily adaptable to handle different film types, bag shapes and sizes, artwork, and products, with quick changeover. And they need to be maintained to immaculate standards of hygiene.
Increase Machine Speed and Flexibility
Any film, any bag or pack, any fill material. From multi-head auger machines to volumetric cup fillers to complex combination systems that incorporate upstream and downstream functions, Kollmorgen allows total coordination and control of axes.
Our Cartridge DDR® motors provide the performance advantages of a frameless, direct-drive motor for precise, compliance-free web control—while offering the fast, simple installation of a full-frame motor. And our next-generation 2G Motion System enables microsecond registration via the industry's fastest servo control loops, with drives and motors perfectly matched for optimum power, torque and responsiveness.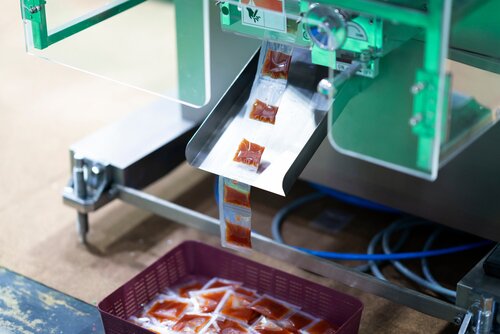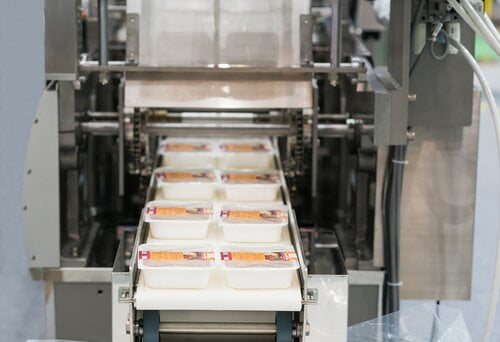 Improve Throughput
Higher throughput equals higher profitability. Using our wide range of standard and easily modified products—designed to work together for optimal performance—OEMs can easily engineer for increased machine throughput while maintaining or even improving product quality. And precise, easily programmed servo control allows them to create a highly versatile platform that can meet each customer's changing needs.
Clean It Fast, Make It Last
Washdown cycles can cause ordinary motors to fail when contaminants are pulled past the seals by the pressure differential created as the motor fluctuates between operating and ambient temperatures. Protecting motors during washdown is crucial for maximizing uptime.
Our 316L stainless steel AKMH motors can be directly and thoroughly washed down in only three minutes, with no seams, nooks, flat surfaces or external hardware to trap moisture or pathogens. And with our patented vented cable design, pressure is continuously equalized to prevent ingress of water and contaminants. Our AKD2G drive includes drive-resident SafeMotion™ functions that allow for safe operation of conveyors and other production line components during washdown. So moving parts be cleaned more quickly and thoroughly, while SafeMotion™ helps protect maintenance personnel from hazards.
Top Products for Form/Fill/Seal
Design Tools
Use our advanced design tools to get a quick start choosing the right motors for your application. Then rely on our co-engineering expertise to achieve the exact specifications and modifications you need for optimum performance, quality, manufacturability and cost. Kollmorgen's self-service, web-based design tools include:
Product Selectors
For direct selection of products when you already know your torque, speed, sizing and other requirements.
Motioneering
For guided product selection when you know your application requirements but not the necessary torque and speed.
Performance Curve Generator
For visualizing speed and torque based on winding factor, ambient temperature, drive current and other factors
Explore All our Design Tools »
Get Started
Count on Kollmorgen support to help you design and build a successful machine and keep it reliably productive, anywhere in the world. Our co-engineering experts will work with you to tailor a perfect-fit solution for your motion requirements.
For more than 100 years, Kollmorgen has been creating innovative solutions that bring big ideas to reality, keep the world safer and improve lives. Our history of reliability is unsurpassed, and our solutions are supported through engineering centers of excellence and customer service in all major regions of the world.
See the Kollmorgen Global Footprint | Discover the Kollmorgen Difference