Back to top
Whether you're producing juices, milk, beer, wine, soda or an entirely new beverage category, the pack can be as important as the product. Your packaging processes make the difference for controlling volume, eliminating waste, maximizing throughput and ensuring quality. And higher-quality, more innovative packaging can improve brand performance, driving higher profitability.
Reduce Cycle Times
High-speed bottling and capping machines can process more than 1,000 bottles per minute, leaving little margin for production errors. Nozzle alignment and fluid delivery must be precisely coordinated with high-speed conveyor motion to achieve faster, more reliable throughput—the key to higher profitability.
Kollmorgen's rotary and linear motion systems enable simple setup and adjustment for quick product turnover. The industry's most responsive servo loops enable users to fine-tune conveyor and fill speeds on the fly. And our direct drive servo motors enable fine-tuned portion control with no transmission components to introduce backlash or compliance issues. So your machines can deliver at maximum capacity with minimal risk.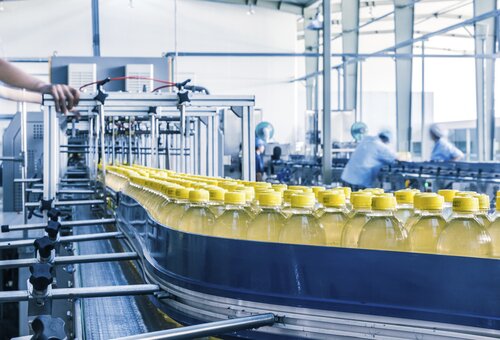 Reduce Product Giveaway
The Fair Packaging and Labeling Act requires containers to disclose the net weight or volume of contents. Underfilled packages violate the Act. To avoid incurring significant penalties, many manufacturers intentionally overfill. However, every milliliter of overfill is unnecessary product giveaway that reduces revenue and profit margins.
Kollmorgen's next-generation 2G Motion System enables precise and consistent control of fill levels with every package, so more packages can reach store shelves. With the most accurate possible camming, gearing and registration—plus continuous data capture to address issues as they occur—manufacturers can achieve the highest degree of fill accuracy in auger, volumetric cup and other filling technologies.
Clean It Fast, Make It Last
The less time you spend cleaning, and the more thoroughly you clean, the more time your machine can be producing products with assured quality and safety. Yet ordinary motors often fail when washdown fluids are pulled past the seals by the pressure differential created while cooling from operating to ambient temperature. Protecting motors during washdown is crucial for maximizing uptime.
Our 316L stainless steel AKMH motors can be directly and thoroughly washed down in only three minutes, with no seams, nooks, flat surfaces or external hardware to trap moisture or pathogens. And with our patented vented cable design, pressure is continuously equalized to prevent ingress of water and contaminants. Our AKD2G drive includes drive-resident SafeMotion™ functions that allow for safe operation of conveyors and other production line components during washdown. This provides unobstructed access to every moving part, enabling workers to clean faster and more thoroughly with minimal hazard.
Top Products for Bottling, Filling and Conveying