Back to top
As technology blurs the line of how humans and machines interact, opportunities to put new robotic driven capabilities into the hands of the warfighter and hazardous duty personnel continue to emerge. Accurate, reliable, durable motion solutions in a compact form factor are critical for mission success.
Kollmorgen Heritage
Kollmorgen has been on the leading edge of precision robotics technology for decades with over 100,000 units fielded in high reliability systems. We have 70 years' experience in designing, manufacturing and delivering motion component products into Aerospace & Defense applications. With the widest range of standard and custom motion solutions, we collaborate with you to deploy rugged, battle-worthy systems engineered and built to meet your singular requirements.
Our Expertise & Solutions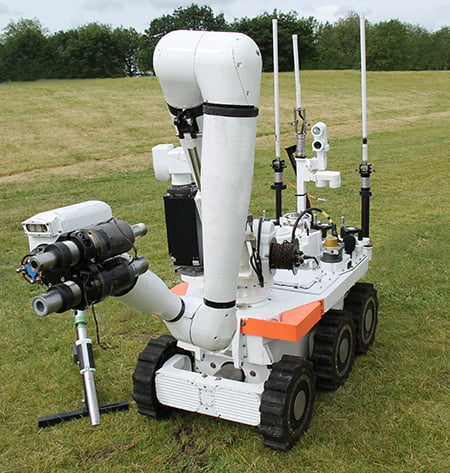 Robots for: mine detection, disaster relief, remote weapon platforms, hazardous duty, bomb disposal, situational awareness
Articulated joints, exo-skeletons, traction, weapon system and camera stabilization, cooling pumps, power generation
Compact form, thermal optimized designs, accurate motion for high shock & vibration and extreme environments
Durable, reliable designs for mission critical applications
Catalog and optimized motor solutions employed, from frameless motor to fully integrated housed motors and actuators (motor, ballscrew, feedback, custom housing)
Optimized motor designs for direct drive, strain wave geared, or zero backlash geared systems
High torque/power to weight ratio, compact, rugged, precision accuracy
Solutions optimized for performance, weight, durability, and affordability
Let's Get Your Program Moving
The hundreds of thousands of fielded units in mission critical applications powered by Kollmorgen attest to the durability and reliability of our motion solutions. Contact your Kollmorgen representative to discuss your application and how we can help you bring it to action with less cost, time and risk.
Supporting Products
Design Tools
Use our advanced design tools to get a quick start choosing the right motors for your application. Then rely on our co-engineering expertise to achieve the exact specifications and modifications you need for optimum performance, quality, manufacturability and cost. Kollmorgen's self-service, web-based design tools include:
Product Selectors
For direct selection of products when you already know your torque, speed, sizing and other requirements.
Motioneering
For guided product selection when you know your application requirements but not the necessary torque and speed.
Performance Curve Generator
For visualizing speed and torque based on winding factor, ambient temperature, drive current and other factors
Explore All our Design Tools »
Get Started
Count on Kollmorgen support to help you design and build a successful machine and keep it reliably productive, anywhere in the world. Our co-engineering experts will work with you to tailor a perfect-fit solution for your motion requirements.
For more than 100 years, Kollmorgen has been creating innovative solutions that bring big ideas to reality, keep the world safer and improve lives. Our history of reliability is unsurpassed, and our solutions are supported through engineering centers of excellence and customer service in all major regions of the world.
See the Kollmorgen Global Footprint | Discover the Kollmorgen Difference