Back to top
MOTIONEERING®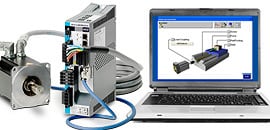 Announcing MOTIONEERING® Application Engine 6.7.0–Kollmorgen's latest release of our premier motion sizing and selection software. This release adds and updates information for the AKM2G Servo Motor series. Sizing frameless motors and drive systems has never been easier. Using a mechanism project concept for collecting and saving multiple axes of load information, MOTIONEERING® can automatically calculate application results and compare against a database catalog of systems – recommending to our customers the most optimized set of Kollmorgen system solutions available.

The engine has the flexibility to sum the effects of multiple axes of motion for power supply and shunt regeneration sizing (rotary applications only). Versatile units-of-measure selection options for mechanism and motion profile data-entry, with the ability to convert data into other available units, makes this a convenient international tool. A user-friendly Help file teaches program functions and algorithms used to provide results.

Download MOTIONEERING Application Engine (v6.7.0)
Mechanism Projects

Direct drive entry, lead screw, conveyor
Rack and pinion, nip rolls
Direct Drive Rotary, Direct Drive Linear
Electric cylinder

MOTIONEERING® Catalog

Rotary motor systems: servo motor, Direct Drive Rotary, stepper motors
Linear positioning systems: electric cylinders, rodless positioners, precision tables

Solution Set Search Screen

Color-coded indication of system's ability to meet application requirements
Review system components specifications
Save, print, or create a pdf application report
Evaluate system performance curve with application points
MOTIONEERING® 6.7.0 Includes:
New Product

Added EnDat 2.2 feedback option to AKM2G/AKD systems. These systems now include resolver, SFD3, DSL, and EnDat 2.2 feedback.

Product Data Changes:

Updated all performance curve data for AKM2G/AKD systems with Resolver, SFD3, and DSL feedback.
Updated AKM2G motor specification data.

Other Corrections and Updates:

On Size System screen added new feedback filter options SFD3, HIPERFACE DSL Capacitive, and EnDat 2.2. Changed existing HIPERFACE DSL Sine Encoder option to HIPERFACE DSL Optical. Changed existing SFD option to exclude SFD3.
On the Search Results screen, added instruction to click on column headings to sort results.

Bug Fixes:

Fixed error on display of Electric Cylinder speed-force curve.
Fixed bug which incorrectly excluded AKM1-7 from search results with HIPERFACE encoder feedback filter selected.
Supported Operating Systems:
Microsoft® Windows 7 Professional, Windows 10 Pro