System Group
OPTIMIZED EFFICIENCY AND SAFETY IN LOGISTICS WITH KOLLMORGEN TECHNOLOGY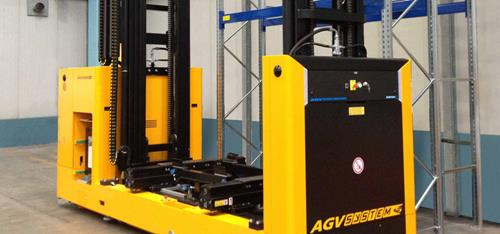 The collaboration between Kollmorgen and Gruppo System Spa resulted in the creation of an AGV vehicle which was 100% customized for a "big player" in the automotive sector: from now on their European sites will use bilateral AGV systems for warehouses and counterbalanced AGVs for the transportation of coils.
The system was built by Gruppo System Spa, an international leader in the manufacture of technological solutions for decoration, storage, packaging, palletising and transport goods throughout a plant or warehouse, using Kollmorgen technology. "Our client's requirement," comments Mauro Iacconi, Sales Manager for the AGV Dept. at System Spa, "was to have an automated and flexible warehousing system where an equally flexible conveyor-elevator would be deployed which would not be restricted to a specific warehouse and therefore, if necessary, could be moved elsewhere." The proposed solution was tailored for a warehouse with a conventional shelving system where each side of the warehouse has double depth shelves with a free corridor in the middle where an AGV vehicle with bilateral forklifts has been installed; it is powered by two loading bays, manually handled by an operator (the presence of an operator was the client's request). The circulation is managed by a supervisor with an NDC8 navigation system and assisted by WMS (Warehouse Management System) software: the result is improved handling times and thus enhanced productivity. The three vehicles manufactured for the European sites are already operative and thanks to their efficiency the customer was able to optimize the organization of the facility and to eliminate errors in the management of product storage and handling. The level of security was also improved, they can now move products in areas of the warehouse that are subject to potential safety risks without involving staff. "Following the European success story, we are confident that we will be able to repeat this type of system in other areas around the world and we are already working in this direction. We are extremely satisfied with Kollmorgen AGV systems: the flexible movement offered by the system-guided laser was a 'must' for our client. After all, pursuing deliverable flexible solutions reflects our corporate policy," says Iacconi.
AGVs are completely self-driven: AGVs (Automatic Guided Vehicles) are automatic vehicles, ideal for moving goods and products within a plant, saving you time, energy and space in the logistics business. AGVs move independently, automatically and without the need of an operator or fixed structures on the floor, thanks to laser, magnetic and multi-navigation guidance systems that ensure the highest degree of flexibility for possible future developments of a facility. There are many industries in which AGVs can be used such as: ceramics, logistics, engineering, food & beverage, tissue, automotive, work stations, pharmaceuticals and warehouses with shelves.
Kollmorgen is a leading global provider of systems for AGV management: deep knowledge and skills together with a full range of hardware, software and navigation technologies are the winning combination that contribute to the repeated success of this company every day.