Back to top
T2 Series
Kollmorgen T2 Series stepper motors provide high torque in a NEMA 23 frame size (60 mm). With holding torques to 421 oz-in (3.0 N-m), these steppers deliver the most torque of any Size 23 motor. They are available with open leads or a terminal box, and offer an excellent alternative to pneumatic, hydraulic and servo motor systems.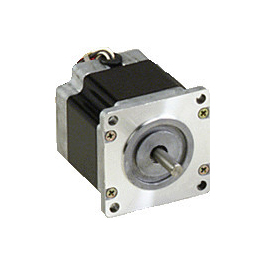 Features
Features
0.56 to 3.0 N-m (80 to 421 oz-in) holding torque accommodates most high torque application requirements
0.014 to 0.049 N-m (2 to 7 oz-in) detent torque leaves more power for moving the load
Speeds up to 3000 RPM meet the velocity demands of most high torque application
Get Started
Get Started
Count on Kollmorgen support to help you design and build a successful machine and keep it reliably productive, anywhere in the world. Our co-engineering experts will work with you to tailor a perfect-fit solution for your motion requirements.
Talk to a motion expert