Back to top
EKM Series Brushless AC Servo Motors
These enhanced, high performance motors are MilSpec 810E rated and IP67 sealed. They are supplied standard with a stainless steel shaft and chemical agent-resistant paint for reliable duty in harsh environmental conditions.
Product available worldwide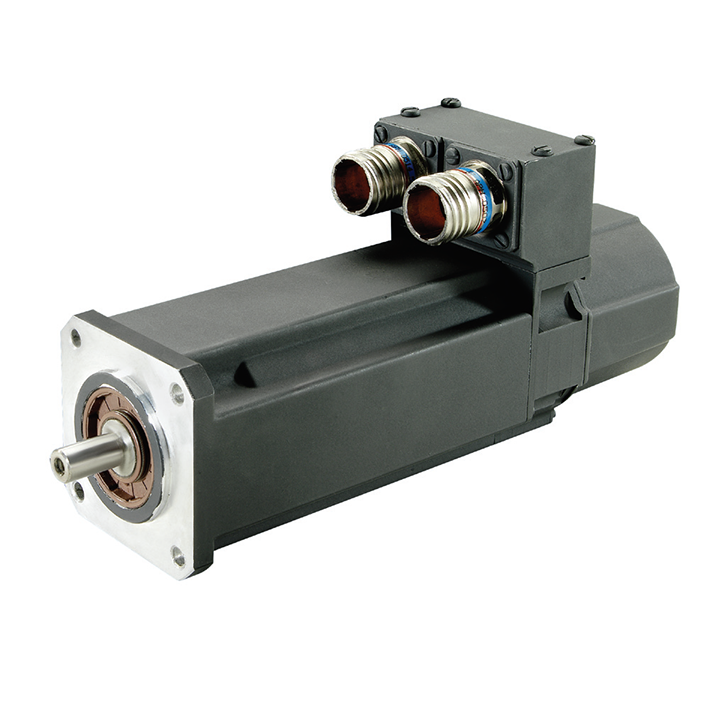 Features
Features
0.43 to 53 Nm continuous stall torque (3.8 to 467 lbin)
Speeds up to 8000 RPM meet high speed requirements
480 VAC High Voltage Insulation.
Custom windings, shaft variations, and failsafe brakes available
Rugged resolver feedback for extreme environment Operating temperature range of -51°C to 54° C
Shock and vibration tested per MILSTD810E, Methods 516.4 & 514.4, Procedure 1
International standard mount available
Low-cog, low harmonic distortion magnetic designs.
Connectivity: High performance nickel-plated MIL-C-38999 connectors with total environmental sealing, quick mating, triple lead threaded, self-locking coupling, as well as EMI and RFI shielding. In addition, both front-facing and rear-facing options are available.
Stainless steel shaft and fasteners prevent external corrosion while a chemical agent resistant paint allows resistance to harsh outdoor environments and chemicals.
Sealing: IP67 rated for ingress prevention and brief submergence as well as 100-psi wash down. In addition, a viton shaft seal comes standard.
Specifications
Specifications
Frame Size
Stack Length
Windings
Max BUS (VDC)
Max Stall Tc Nm (lb-in)
Max Tp Nm (lb-in)
Max Rated N
Max Rated Power @ Max BUS kW (Hp)
EKM2
1,2,3,4
C,D,E,F,G
640
1.37 (12.2)
4.77 (42.2)
8000
0.89 (1.19)
EKM3
1,2,3
C,D,E,H
640
2.83 (25.1)
10.2 (90.3)
8000
1.16 (1.56)
EKM4
1,2,3,4
C,E,G,H,J,K
640
5.93 (52.5)
20.3 (180)
6000
1.68 (2.26)
EKM5
1,2,3,4
E,G,K,L,M,N,P
640
14.3
(126)
38.3 (339)
6000
3.82 (5.12)
EKM6
2,3,4,5
G,K,L,M,N,P
640
24.8 (219)
65.0
(576)
6000
6.05 (8.11)
EKM7
2,3,4
K,L,M,P
640
52.8 (467)
143 (1269)
6000
7.64 (10.24)
Get Started
Get Started
Count on Kollmorgen support to help you design and build a successful machine and keep it reliably productive, anywhere in the world. Our co-engineering experts will work with you to tailor a perfect-fit solution for your motion requirements.
Talk to a motion expert
Media & Downloads
| Article | |
| --- | --- |
| Resolving Servo Feedback Choices | This PowerPoint presentation explains the differences between different types of servo motor feedback devices, including: The differences between absolute and incremental devices. The... |
| Ingress Protection of Servo Motors | [toc] Sealing is an important design tool used to prolong the life of motors against harsh environments containing dust or liquid contaminants. There are arguably an unlimited number of... |
| Normen und Richtlinien | [toc] Allgemeines Struktur des Normenwesens am Beispiel der EN ISO 12100 Europäische Richtlinien New Legislative Framework Blue Guide: Leitfaden für die Umsetzung der... |
| Hall Sensor Alignment Process | Hall Effect Sensors are used to establish proper motor commutation on Brushless Servo motors. To be effective, the Hall Effect Sensors must be properly aligned with the servo motors phases.... |
| EKM Motor Connectors and Corresponding Mating Connectors | Kollmorgen does not offer power or feedback cables for the EKM series servomotors. Typically customer's will build their own cables for applications using the EKM motors. The EKM motor connector... |
Pages
Have a support question? Ask our community.
ASK A SUPPORT QUESTION