Back to top
DC Torque Motors
These low-voltage DC direct drive motors deliver high torque at extremely low speed. They are perfect for applications—such as forward-looking infrared radar (FLIR)—that require simple control, very smooth motion, and maximum rate and position accuracy, while minimizing size, weight, power and response time. These motors provide a servo actuator that can be attached directly to the driven load. A permanent magnet field and a wound armature act together to convert electrical power to torque.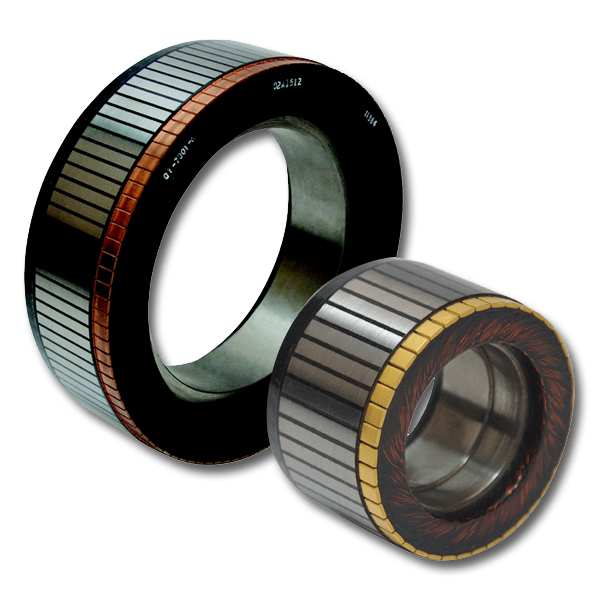 Features
Features
Ideal for positioning or speed control systems that require high stall torque, high torque at low speed or optimum torque at high speed.
Frameless and housed models available in a huge range of sizes and torques
High torque-to-inertia ratio for rapid start/stop and acceleration
High torque-to-power ratio for low power input requirements
Low electrical time constant for excellent command response at all operating speeds
Linear torque response for all input currents and speeds, with no dead spots
Reliable operation over a long life
High accuracy even at low speeds, without the backlash and compliance of a geared system
Smooth, quiet operation
Compact, adaptable design
Co-engineered modifications include specific magnet materials, laminations, magnetic pole counts, stack lengths, windings, installation geometry and more
Get Started
Get Started
Count on Kollmorgen support to help you design and build a successful machine and keep it reliably productive, anywhere in the world. Our co-engineering experts will work with you to tailor a perfect-fit solution for your motion requirements.
Talk to a motion expert
Media & Downloads
| Article | |
| --- | --- |
| Trade Compliance | Kollmorgen is committed to sourcing components and materials from companies that share our values regarding respect for human rights, integrity and environmental responsibility. Kollmorgen is also... |
| DC Torquer Old Catalog | Old DC Torquer Catalog for NT, QT, and T |
| Normen und Richtlinien | [toc] Allgemeines Struktur des Normenwesens am Beispiel der EN ISO 12100 Europäische Richtlinien New Legislative Framework Blue Guide: Leitfaden für die Umsetzung der... |
| Standards and Directives | [toc] General Structures of standards with EN ISO 12100 as an example ISO Standards Safety of Machinery — General Principles for Design ISO 12100:2010 UL Standards... |